"Batska (Father - Lukashenka's nickname) is better than Maidan," - not only the TG-channel "Your Plums" thinks so, but also, according to this resource, Ukrainians who took part in the "Radio Liberty" survey.
In Kiev, journalists of an independent news resource asked people how they felt about Alyaksandar Lukashenka. Employees of "Your Plums" published a part of this video and summarised that the majority of Ukrainians expressed their support for Lukashenka.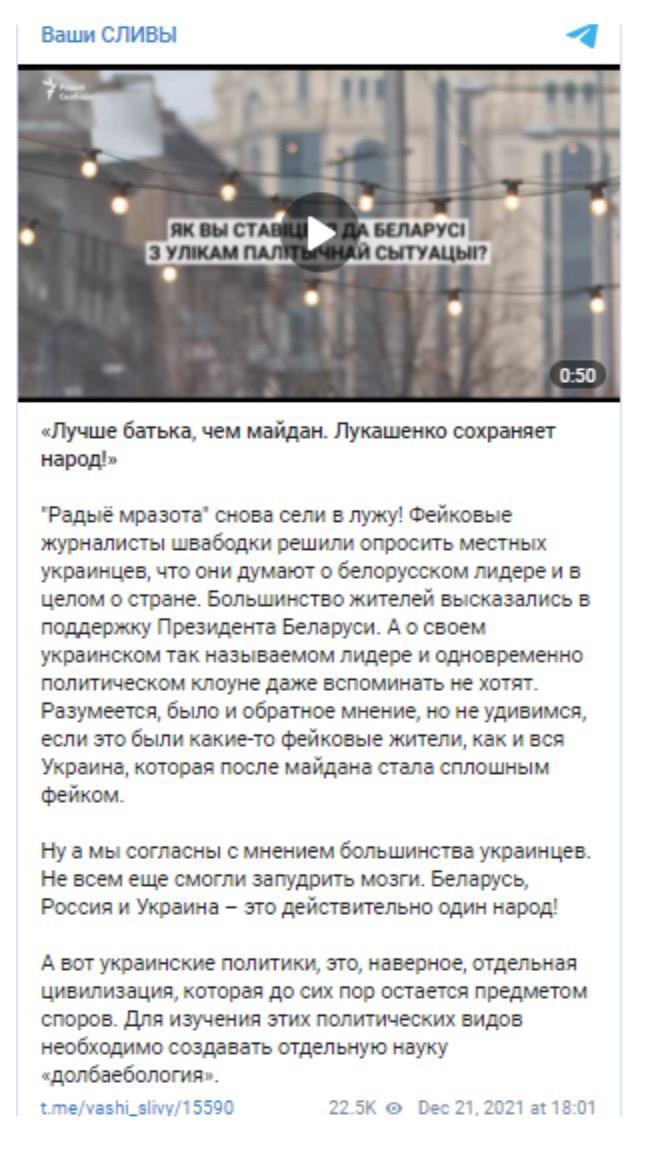 A similar post was published a little later in the TG-channel of the state news agency BELTA. This is what some of the interviewed Ukrainians said according to BELTA and "Your Plums":
- I think it is better to have Batska than Maidan for now. It is more peaceful that way. In fact, he keeps the people together.
- Frankly speaking, I am very negative towards the fact that our president is going to break off relations with Belarus and go to war with those with whom we have had normal relations all the time.
We found the original of this survey and listened to what the majority of Ukrainians interviewed by "Radio Liberty" really think about Belarus and Lukashenka. Here are just a few quotes from Ukrainians whose opinions the pro-regime journalists decided to cut out:
- Well, Lukashenka should be going somewhere to the dustbin of history by now. How long can he sit there!
- A normal guy, they used to say. And now, well, they say different things.
- It is better to have Batska than Maidan for now.
- He is not eternal. Everything will change – everything will be fine.
- Politics is bad; there is nothing more to say.
In total, the published survey presents the opinions of a dozen Ukrainians, and the TG-channel "Your plums" cut out only two of the answers - the ones that flatter the state propaganda. In fact, only one of the respondents said "It is better to have Batska than Maidan". The rhetoric of the others towards Lukashenka was more negative. And even the man, whose words "Your Plums" allegedly presented as appreciating Lukashenka, speaks less favourably about him in the full version of the video. However, this part of his answer "Plums" decided to cut. And here's what else he said about Alyaksandar Lukashenka:
"Honestly, there has always been a good attitude. But now, given what he has been doing lately, I feel more negative towards him. But I can't say it's my final judgement".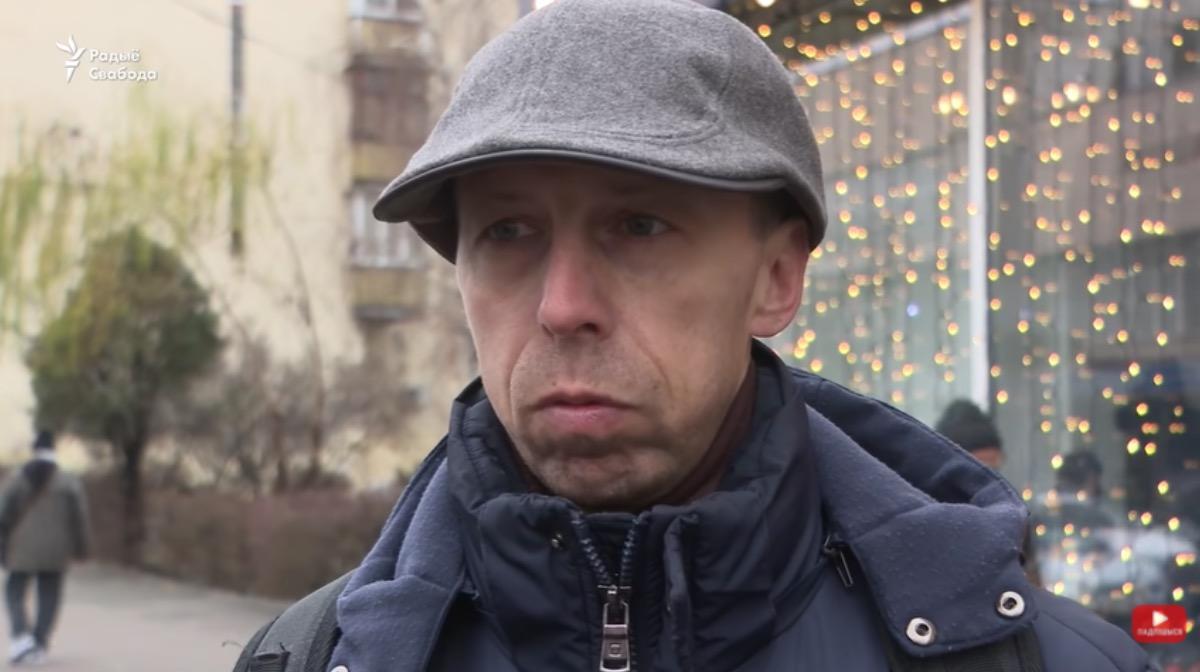 Transgender people have taken the Olympic Games away from Aleg Gaidukevich! He stated this in the program "Weekdays" on the YouTube channel "SB Belarus Today".
"You took the Olympics away from us! Look what they are doing! There will be no weightlifting at the next Olympics, no other sports. And look why... It is about them playing their tolerance games. A man cuts something off, lifts a barbell, and we have to give up weightlifting because of it. Anyway, he remained a male because of the hormones, obviously. And he will always raise this barbell better than a woman," said Aleg Gaidukevich.
First of all, Gaidukevich is, to put it mildly, a little ahead of the event. And secondly, transgender people and any other members of the LGBT community have nothing to do with it. The IOC announced back in 2017 that weightlifting could be removed from the Olympic list. And the reason for this is numerous doping scandals and corruption. Here is a quote from Thomas Bach, the head of the International Olympic Committee, dated 2021:
"Unfortunately, I have to talk about the weightlifting federation. The IWF ignored our demands despite our warnings. If our concerns are not resolved, then we will have to consider their future participation in the Olympics in Paris and further Olympiads."
In 2020, the German TV channel ARD released an investigation in which it proved that corruption and doping were concealed by the head of the Weightlifting Federation himself, Tamas Ajan. He was accused of creating a whole "culture of corruption" and dismissed from the post a few months after the film release.
However, despite this, on the official website of the Olympic Games to be held in 2024 in Paris, weightlifting is on the list of game disciplines. By the way, the media reported, referring to the IOC, that the program of competitions in weightlifting at the Paris games was reduced: only 120 athletes will come (for comparison, in Rio there were 260), and the number of medal sets will decrease from 14 to 10.
But on the list of game disciplines at the Olympic Games in Los Angeles, which will be held in 2028, weightlifting, as well as boxing and modern pentathlon, are no longer there. However, as noted on the official website of the Olympic Games in Los Angeles, they may return there in 2023, when the IOC Executive Committee will finally consider the matter.
Alyaksandar Lukashenka congratulated the Belshina company on its 50th anniversary. According to the BELTA news agency, in his congratulatory message he pointed out that Belshina's products are deservedly in great demand. And the core of the company's success is the progressive development based on modern technologies, high quality and constant assortment renewal, which meets consumer needs.
Lukashenka lied when he spoke about the great demand for the company's products and its progressive development. The peak of demand for Belarusian tires was in 2012-2013. At that time, the company was producing about 5.5 million tires per year. But over the past five years, the production volume has decreased by about one and a half times.
In addition, the company is constantly unprofitable. For example, in 2020 it made a net loss of almost 200,000,000 rubles.
Belarusian Prime Minister Raman Galouchanka, visiting this enterprise in August, promised to support by debt restructuring and the application of preferential treatment for its repayment. And the Mogilev region Prosecutor's Office even initiated a criminal case on the fact of formation of overdue external receivables from Belshina for 2015-2020.
Before the New Year, all state channels were summarising the results of 2021. ONT columnist Anatol Zankovich was so enthusiastic about it that he stretched the size of Belarusian exports by two times.
"If we take the economy in general, then in 10 months of this year (final results later) we have sold $75 billion abroad. And note that it is a third more than a year ago," Zankovich said.
The ONT may not know that sales abroad are called exports. Here are the BELSTAT statistics for January-October last year. The export column shows less than $40 billion. And the $75 billion claimed on the ONT is foreign trade turnover - exports and imports. Belarus did not earn $36 billion and $250 million of that money, but spent it on the purchase of imported goods.
Anatol Zankovich went on to explain to ONT viewers why inflation in Belarus was not 5%, as the government had planned, but more than 10%. And why that turns out to be a good thing.
"If we're talking about the planet in general, let's look at what caused it. The correct answer is world prices. The UN Food and Agriculture Organization has published this data. Note that the price index has barely changed in 2018 or 2019. And the prices remained more or less the same. At the end of last year, they went up a little bit. And here is the current year 2021. And immediately there is a 28% increase, which has not happened in 10 years. So prices have risen by almost a third on average worldwide. Everything is relative, right? So if you look at it from this angle, that everything in the world has become more expensive by 30%, our inflation of 10% is not so terrible," Zankovich said.
The ONT employee only showed a graph of food price increase, and on its basis concluded that everything in the world has risen in price by 30%, which is a complete manipulation.
Here is the latest available data on inflation rates in various countries. The average inflation rate in the European Union is 4.5%. In Japan - 0.6%, in China - less than 2.5%. In Europe only Turkey, Moldova and Ukraine overtook Belarus in terms of inflation. In other countries, the situation is much better.
By the way, official Minsk claims that Belarus is self-sufficient in food. Then why the prices of Belarusian-made products are increasing, the state channels do not explain. For example, over the year, the price for pork rose by 20%, Belarusian potatoes - by 60%, and the price for white cabbage doubled.
There is one more question for the ONT employee. How have world food prices affected the prices of Belarusian non-food products? They also went up by almost 10%.
Другие Antifakes / Factchecks