Lithuanian partners of Belaruskali in the Klaipeda terminal project use shell companies to overprice transhipping of Belarus' fertilizers.
Journalists of the "Davaite razbiratsia" program in cooperation with the Lithuanian Center "Siena" found out how such deals can be conducted at the expense of potential profit of "BelarusKali". Meanwhile, mineworkers risk their health mostly because of lack of new equipment.
Belarus and Lithuania started cooperating in the potassium industry in 2013. At that time "BelarusKali" bought 30% of "Birių krovinių terminalas" (BKT).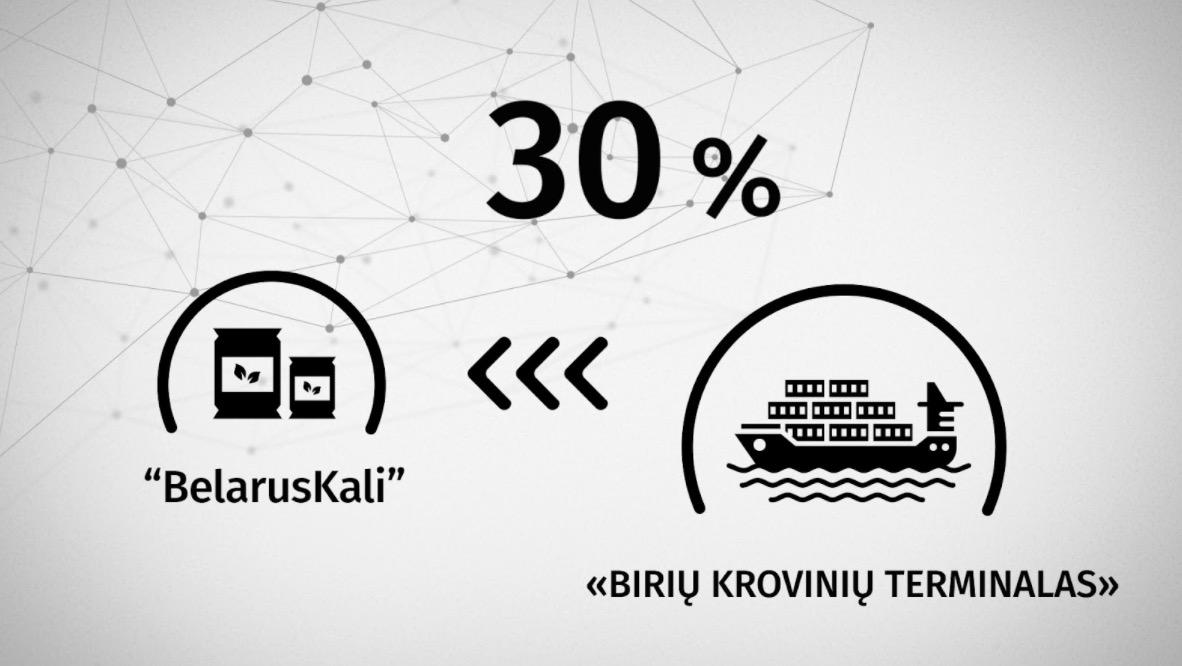 This company owns a bulk materials processing terminal in Klaipeda. Belarus decided to use this port to reduce the expenses on shipment. At the end of 2020 about 90% of "BelarusKali" production was shipped through Lithuania.
Last year revenue of "BelarusKali" was $2,4 bln.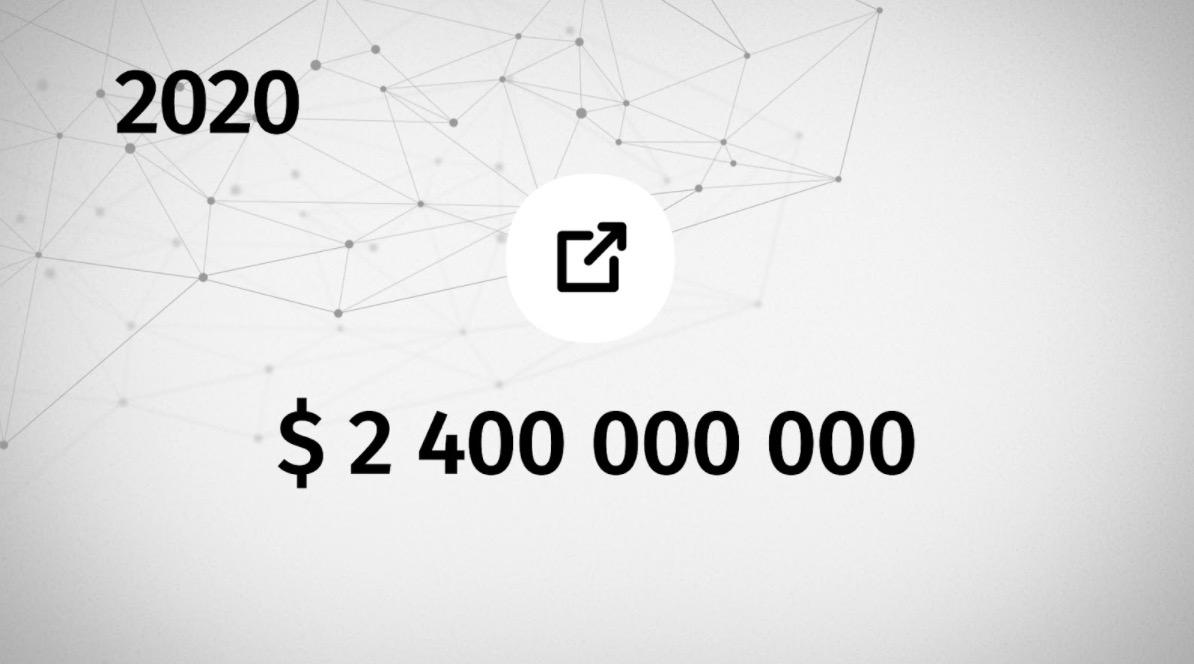 However, the profit accounted for $9 mln. "BelarusKali" also sells its production through a state trader "Belarus potassium company", which, anyway, operates with a break-even profit.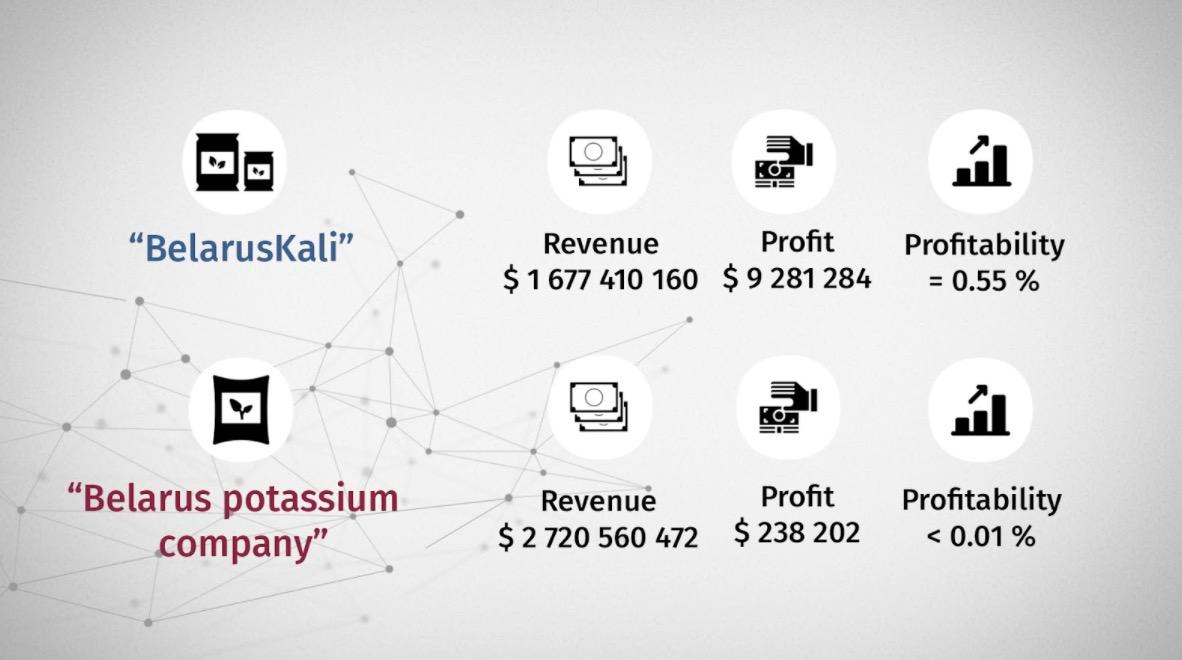 So did "BelarusKali" manage to reduce expenses at the cost of buying a share of Lithuanian terminal?
In the last 8 years BKT made almost €500 mln, more than €100 mln of which is their profit.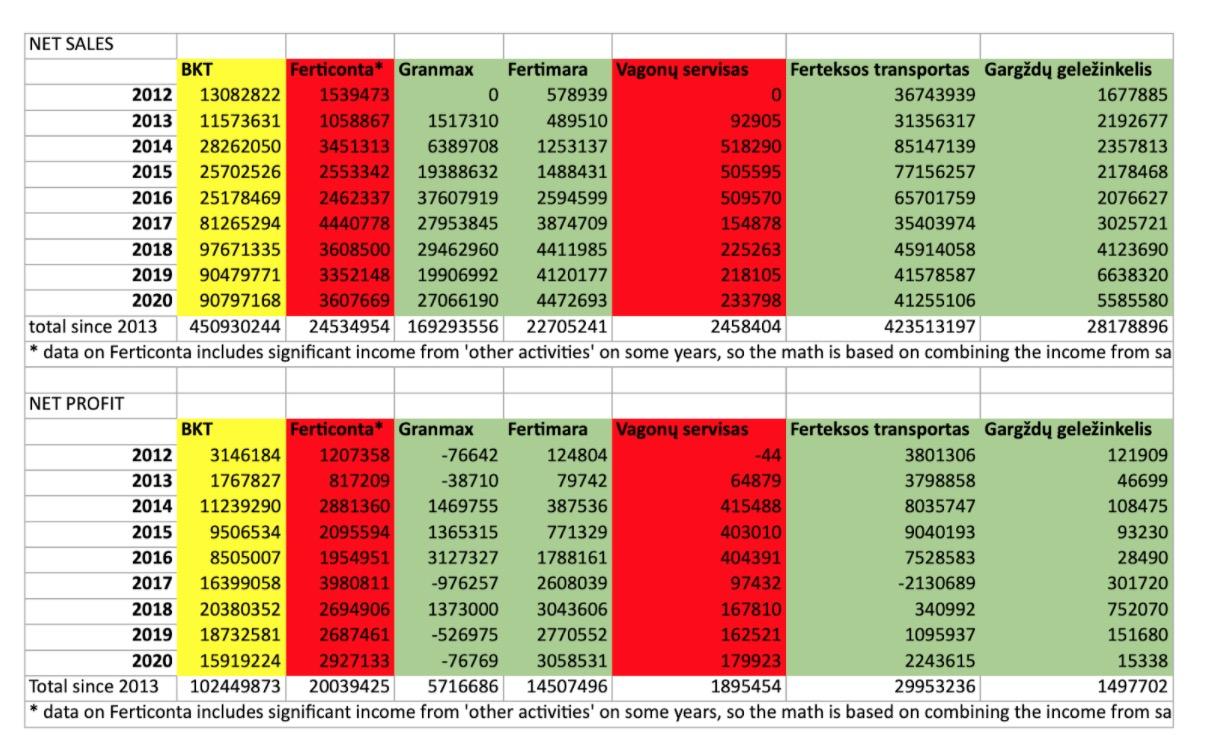 The major shareholder Igor Udovitski got €46 mln.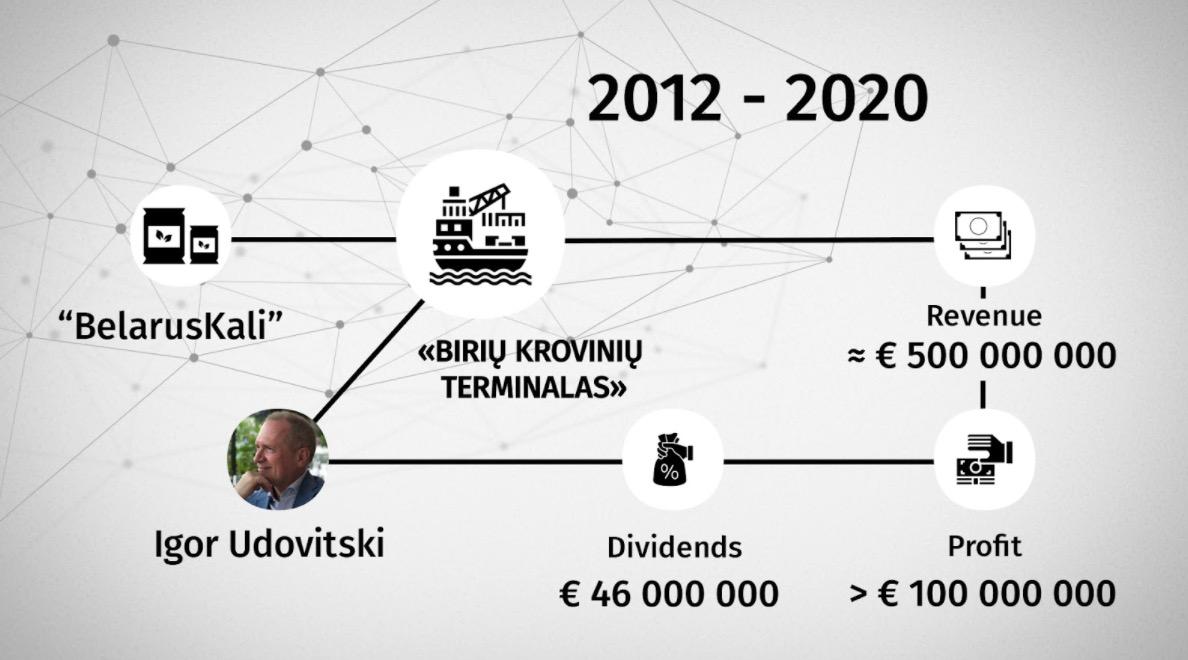 "BelarusKali" and BKT also work with other companies, which are controlled by the Chief of BKT Vidmantas Dambrauskas and Igor Udovitski.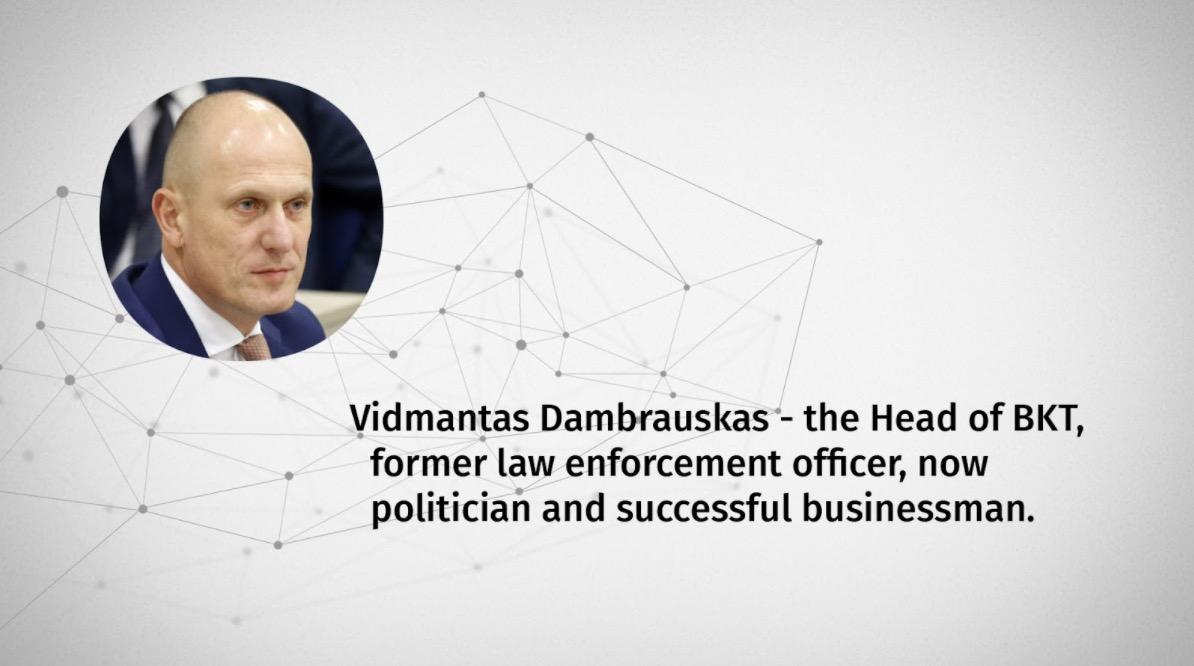 Dambrauskas in cooperation with "Belarus potassium company" owns the "Fertimara" company in the port of Klaipeda. The company operates as an exclusive freight broker for "Belarus potassium company". It is responsible for finding and hiring freight ferries to transport 90% of belarusian potassium.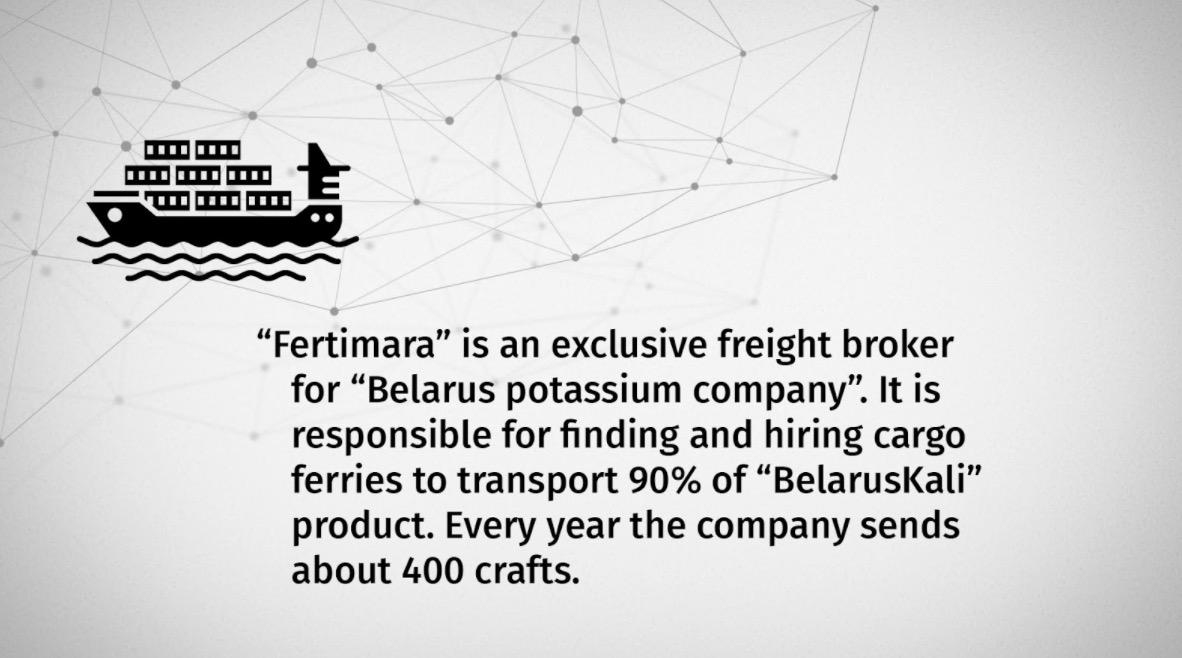 "Fertimara" 2020 revenue accounted for €4,5 mln, whereas its net profit was about €3 mln. Overall, its profitability is 68%, which is higher than industry average.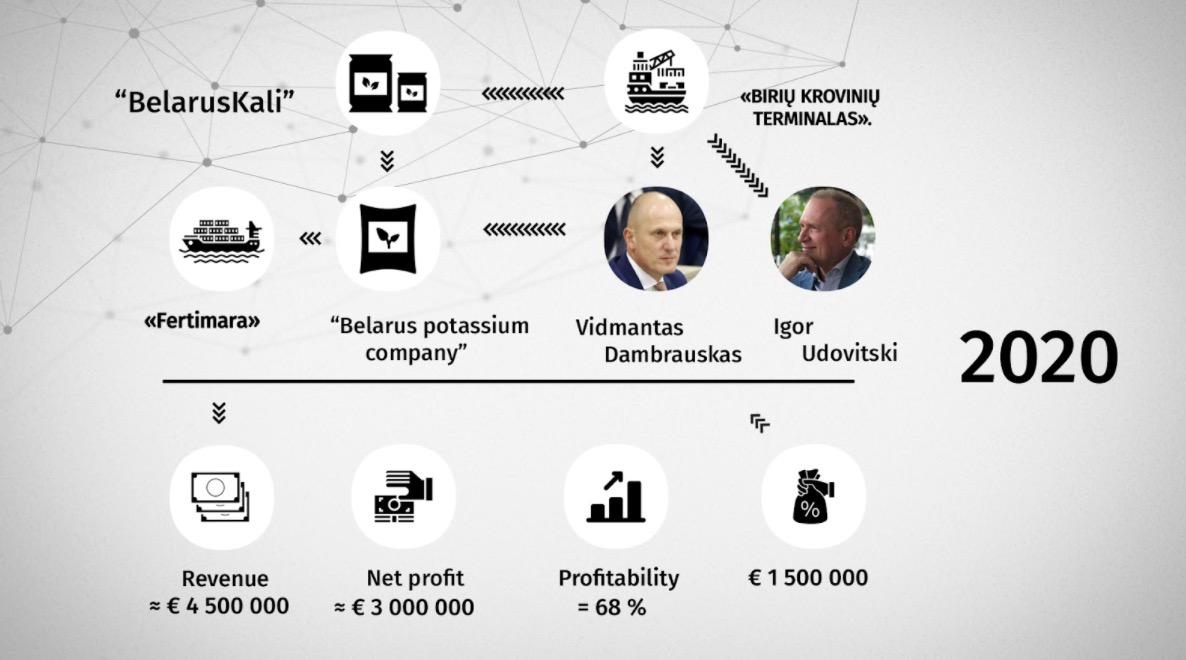 Another company which is controlled by Dambrauskas is called "Ferticonta". This company performs shipment and loading in the port of Klaipeda. Its revenue in 2020 was €2,7 mln, which made its profitability grow from 75% to 188% in the last 5 years.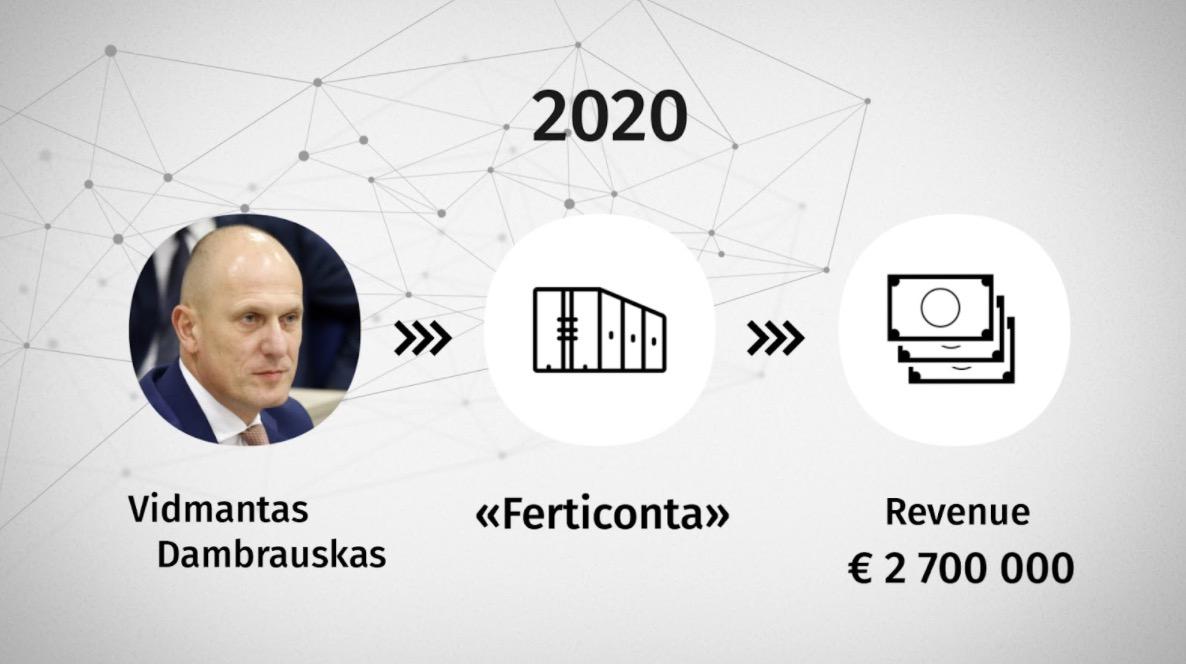 Dambrasuskas refused to share his ways of working with such a huge profit.
"These two companies are the leaders on the market. They provide exclusive and exceptional services, which no-one in the industry does. It's a commercial secret, which I'm not going to share or comment", – said Vidmantas Dambrauskas.
In 2019 Vidmantas Dambrasukas was elected as the City Council member of Klaipeda. A year after that he was proclaimed the richest politician in Lithuania. In 2020 his estimated fortune was €80 mln.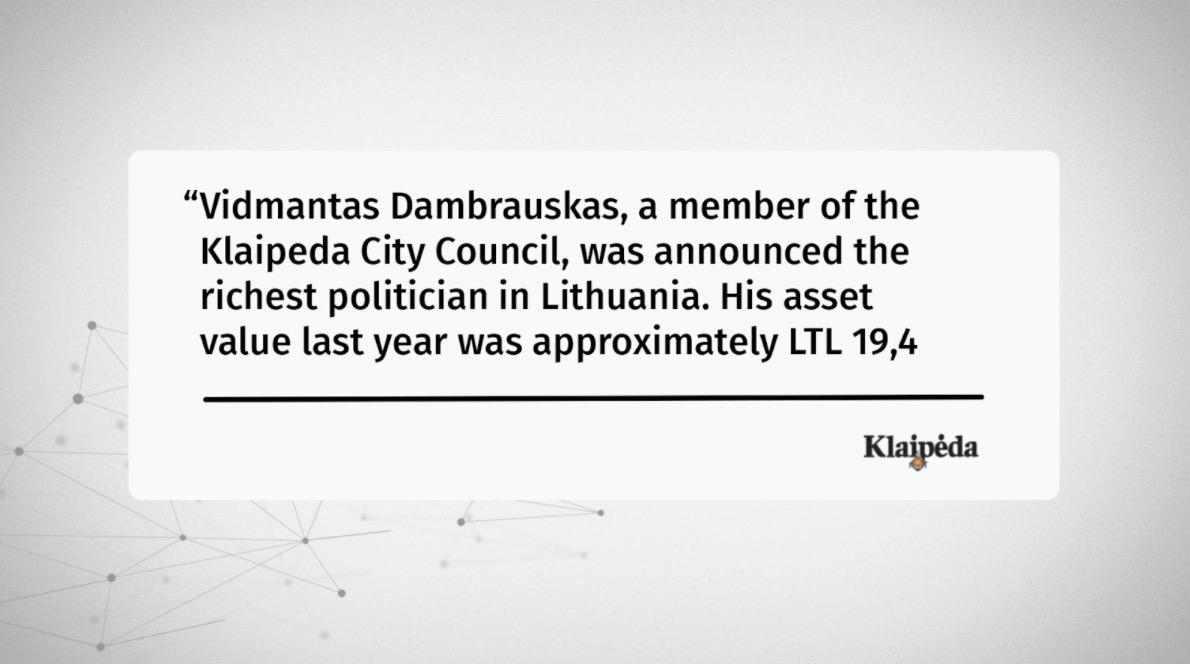 The Udovitskis family own "Ferteksos transportas", which ships fertilisers. Last year the company made about €40 mln on the services provided to BKT.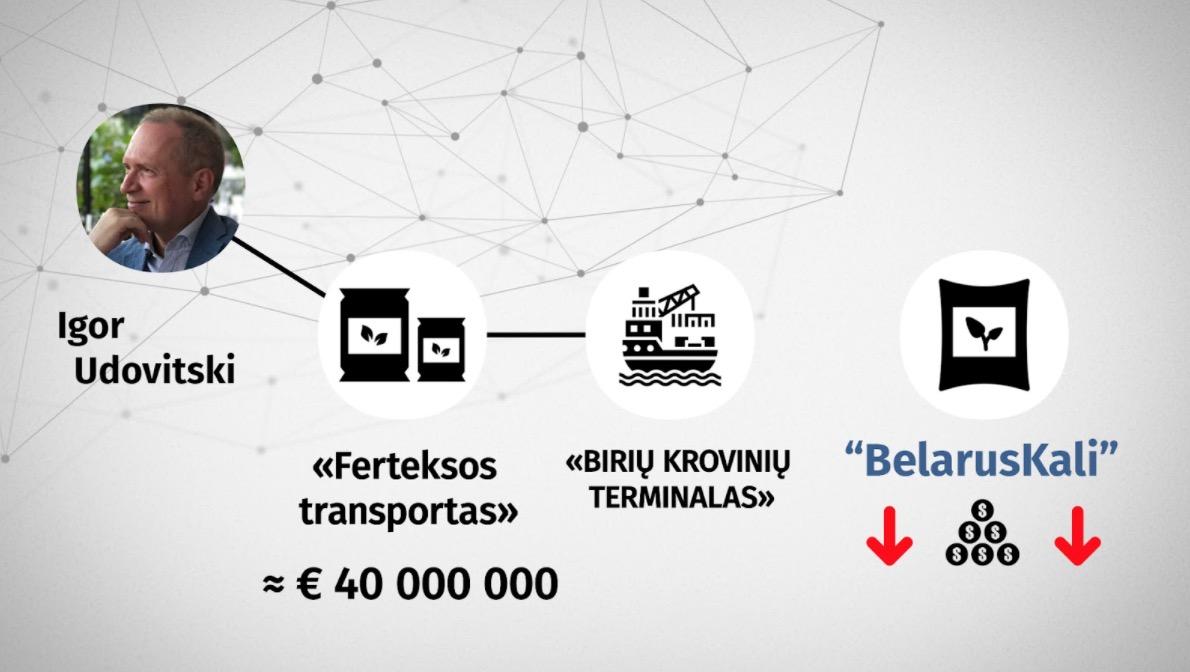 Udovitski also owns "Gargždų geležinkelis". This company transports cargo, performs shunting movements and repairs of rolling stocks, leases out locomotives. This company's 2020 revenue was more than €5,6 mln, while its net was €15000. Another company that belongs to Udovitski is called "Vagonų servisas", which is responsible for coordinating freight trains arriving to Klaipeda seaport.
Not long after the cooperation between Lithuania and "BelarusKali" the revenue of "Vagonų servisas" started to grow. In 2020 the company's profitability reached 80%.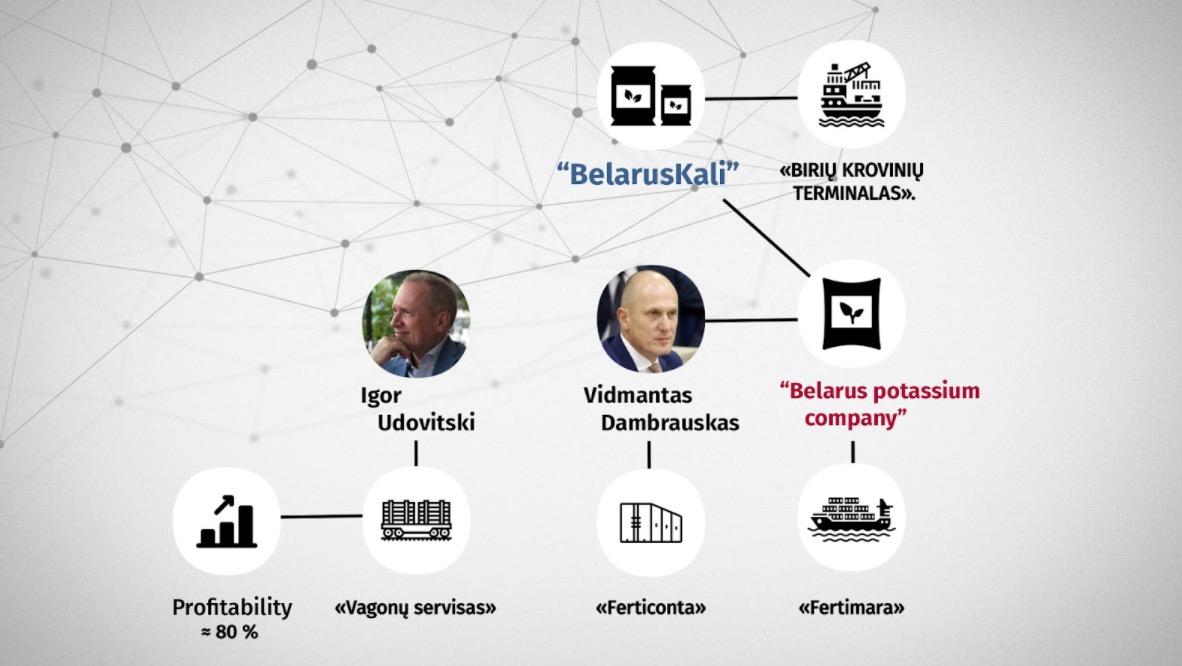 Overall, in the last 8 years since "BelarusKali" cooperated with BKT, the companies owned by Udovitski and Dambrauskas reached a net profit of more than € 50 mln.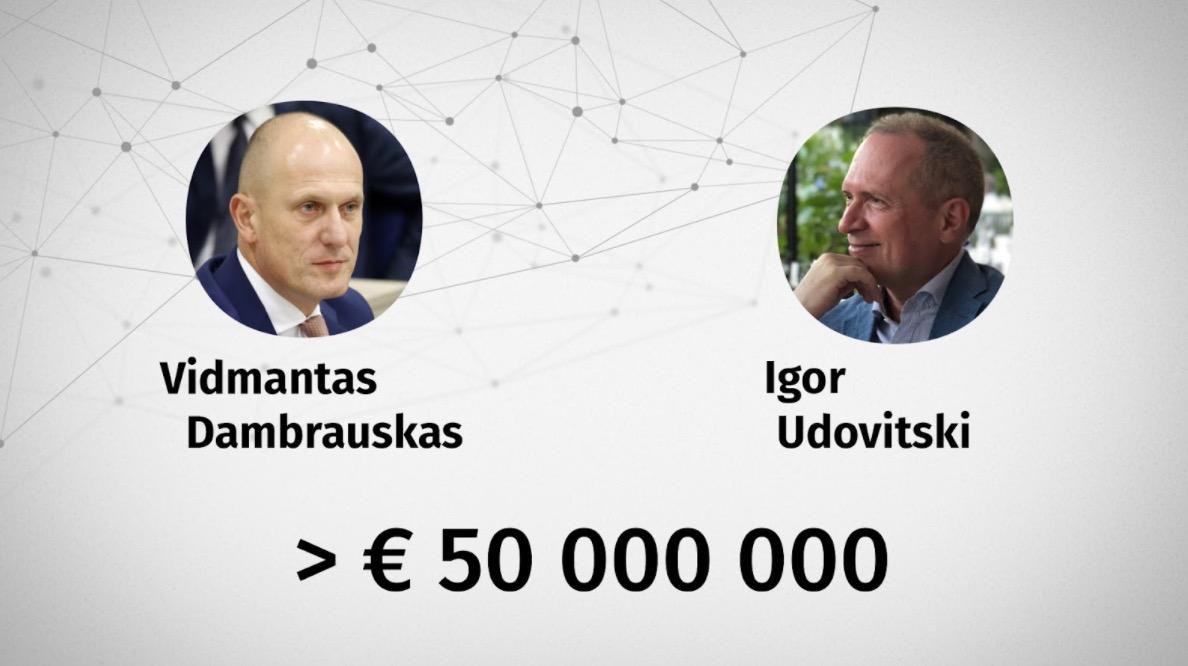 According to an insider, Udovitski wasn't succeeding in working with "BelarusKali" until he made friends with Dambrauskas, who used to work in the police.
Dambrauskas himself managed to make a deal with Elena Kudriavets, who heads "Belarus potassium company" and also used to work as a Deputy General Director for Commercial Affairs and Logistics in "BelarusKali". According to our informant, "they had some sort of connection", after which the deal was made.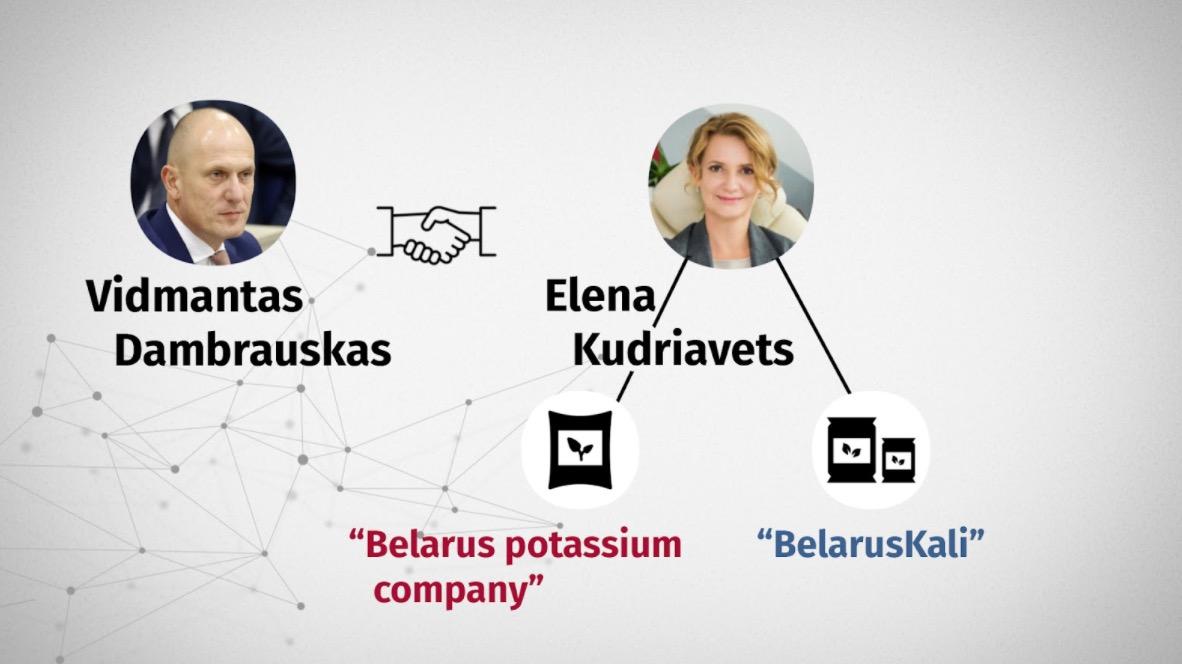 Elena Kudriavets became the head of "BelarusKali" in July 2013, which followed a deal on terminal BKT. Interestingly, Russian "UralKali" announced a termination of partnership with "BelarusKali" and suspended all their export sales through a common trader. This decision was made in response to cancellation of exclusive sales rights on a joint russian-belarusian enterprise, after which the head of "UralKali" Vladislav Baumgertner was arrested in Minsk. Then the shareholders of the Russian company changed and, finally, "Belarus potassium company" announced its independence.
Alexander Poliakov, a new deputy of Elena Kudriavets, was the one who made it public. He worked in the KGB and Operative Analytical Centre, which were controlled by Viktor Lukashenko. A special commission was summoned not long before the situation with "UralKali". The commission with the Secret Service in charge analysed potassium fertilizers distribution. Elena Kudriavets was an active member of this commission.
Igor Udovitski and Elena Kudriavets refused to comment on it.
Today the scheme is at risk because of the sanctions. On June 24 the EU imposed sectoral sanctions on some potassium fertilizers. Export of potassium chloride to the EU was still allowed. However, Canada, the USA and the UK have their own sanctions on "BelarusKali". Lithuania also announced that it was going to suspend shipment of the Soligorsk plant through its territory.
Our informant who works for the Lithuanian railway said that whether "BelarusKali" would be sanctioned depended on banks. If banks didn't stop executing payments, then the supply would continue.
"We have nothing to do with America. Let's wait till the sanctions are imposed. Banks have more to lose, while we are just a part of the EU," – commented Vidmantas Dambrauskas.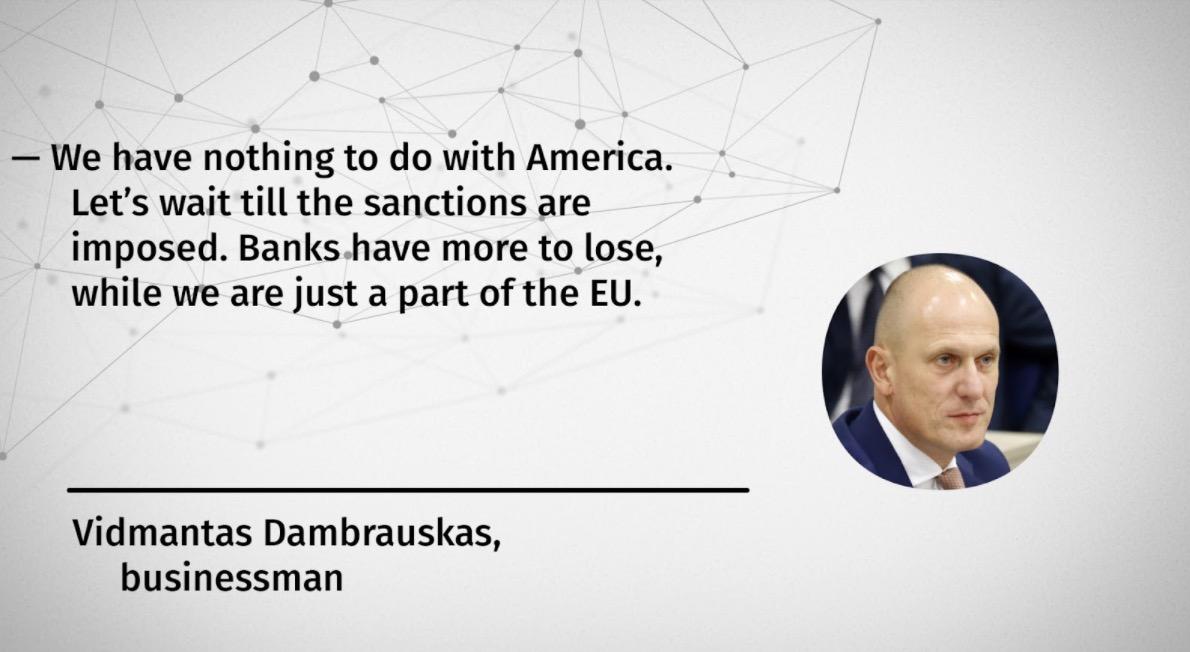 In case Lithuania terminated the transit of shipment of belarusian fertilisers, "BelarusKali" would have to ship through Russia. Although, it has no agreement with the Kremlin yet.
"Lithuania will be the one to lose. If belarusian potassium was transported through Russian ports, we would never get this partner back", – said Udovitski when such a possibility was being discussed.
So far, "BelarusKali" can't stabilize a safe potassium mining process. In the last 10 years, according to unofficial data, there were about a hundred different accidents, Officially, 18 mineworkers died in that period.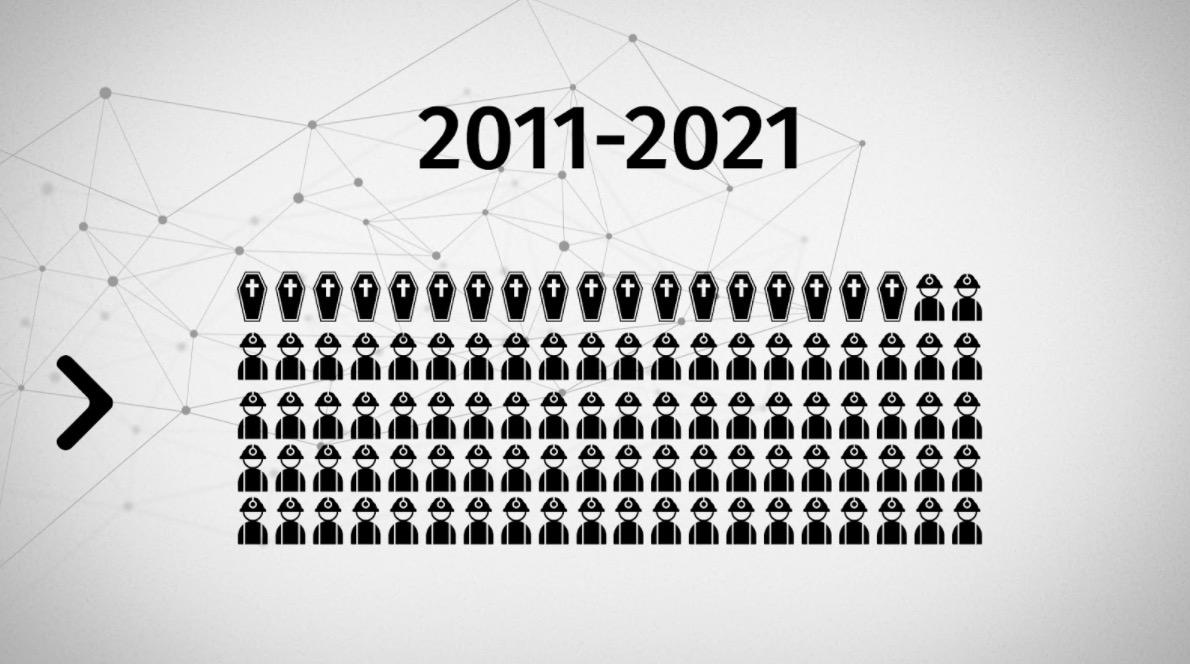 In any case, the directors blame the workers themselves, while the latter say that the equipment is old and requires repairs or total replacement. The company decided to save money on modernizing the equipment at the cost of workers' lives.
"Our management is constantly trying to blame the workers because they don't want to be responsible for the accidents. I have no idea what they say to the people. But many of them agree to take the fall", – claims ex-mineworker of "BelarusKali" Vladimir Timoshenko.
We tried to get the management comments but they refused to talk on the phone.