In 2020 the presidential suburb of Drazdy saw the inauguration of a school designed for the children of top government officials, security servicemen, prominent businessmen, but most importantly – Aliaksandr Lukashenka's own family. Journalists at the Belarusian Investigative Center have identified key organisers – Mikalaj Lukashenka's mother Iryna Abielskaja, and Aliaksandr Lukashenka's sanctioned moneyman Mikhail Gutseriev. And despite its estimated annual revenue exceeding $1m, the school keeps enjoying government subsidies – perhaps because this is the very school that Mr Lukashenka's favourite son Mikalaj graduated from this year, earning a gold medal. Who would have thought.
Key points
The Lukashenka family has earmarked three Minsk schools as suitable for their children based on student cohort rather than teaching record. The main criterion for the students is to have top public servants, security servicemen, and prominent business people as their parents.

The private school that Iryna Abielskaja has founded earns over $1m in estimated annual revenue and enjoys public funding. In 2022, Aliaksandr Lukashenka's youngest son Mikalaj graduated from the school with a gold medal.

Mikhail Gutseriev, who is known for securing lucrative contracts, was one of the people involved in project delivery.
The elite grammar school
Courtesy of Cyber Partisans, a Belarusian pro-democracy hacker group, we are now certain that Iryna Abielskaja is the real mother of Aliaksandr Lukashenka's son Mikalaj.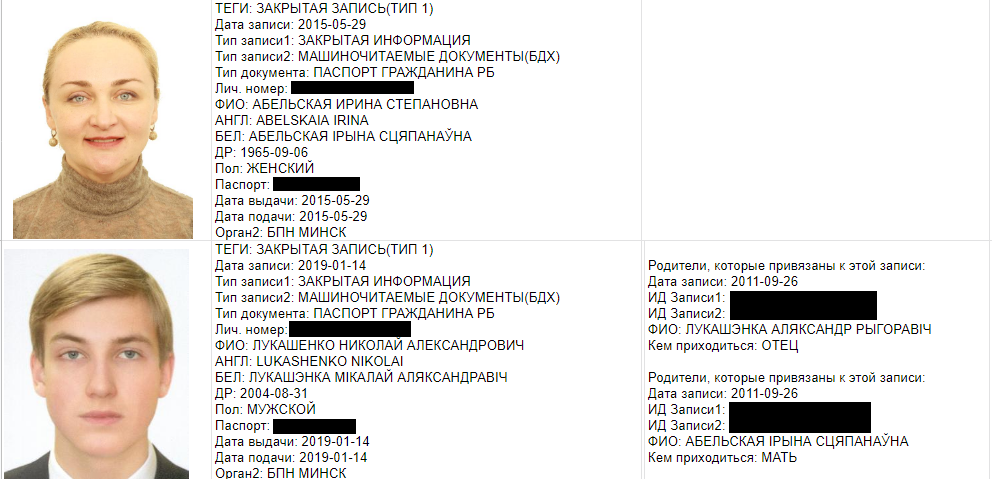 In the 1990s, the woman was Mr Lukashenka's personal medic and scored the Chief Physician role at the Republican Clinical Medical Centre. But following the birth of Mikalaj Lukashenka, the woman went out of his father's favour and lost her job with Aliaksandr Lukashenka refusing to provide public comment on anything related to Mikalaj's mother.
Iryna Abielskaja's return to the public eye came only in 2015 when she appeared at Aliaksandr Lukashenka's presidential inauguration. A year later she was seen flying together with Aliaksandr Lukashenka and their son Mikalaj back from Rome after Mr Lukashenka's official meeting with President Sergio Mattarella and Pope Francis – according to a Cyber Partisans travel database hack.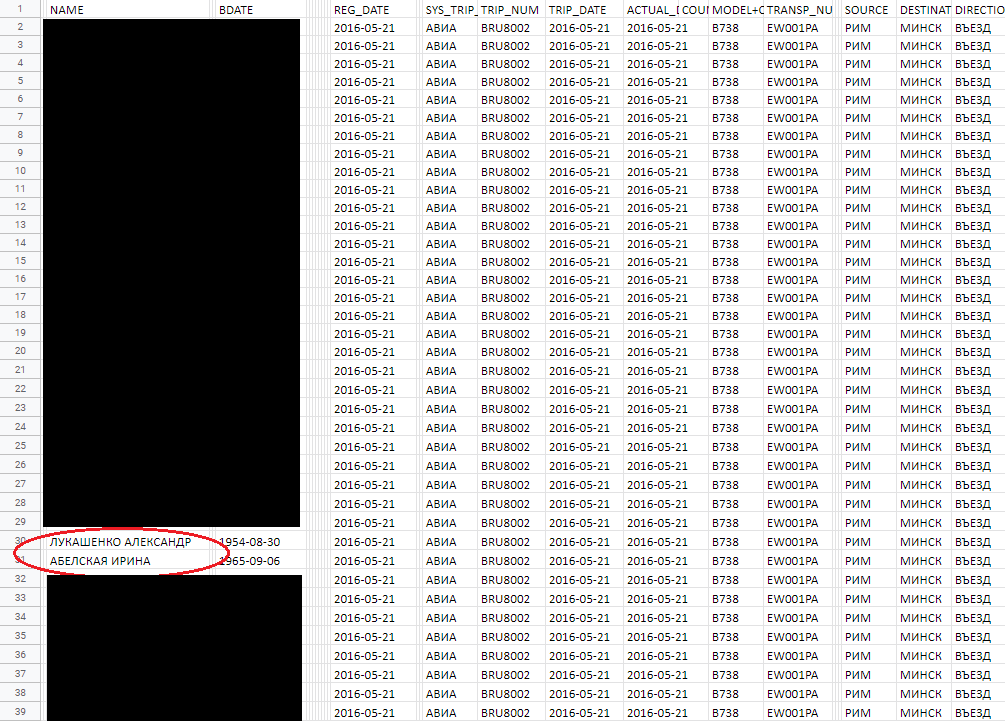 During those times it was customary for Mr Lukashenka to disregard the protocol and take little Mikalaj to official meetings, even if it meant meeting the Pope, as was the case during their Vatican call.
A few years later, Miss Abielskaja became the Chief Physician of the revamped Republican Clinical Centre whose upgrades cost the taxpayer €100m. In 2019, Iryna Abielskaja was seen yet again in Aliaksandr Lukashenka's company when he visited Vienna to meet the then Chancellor Sebastian Kurz.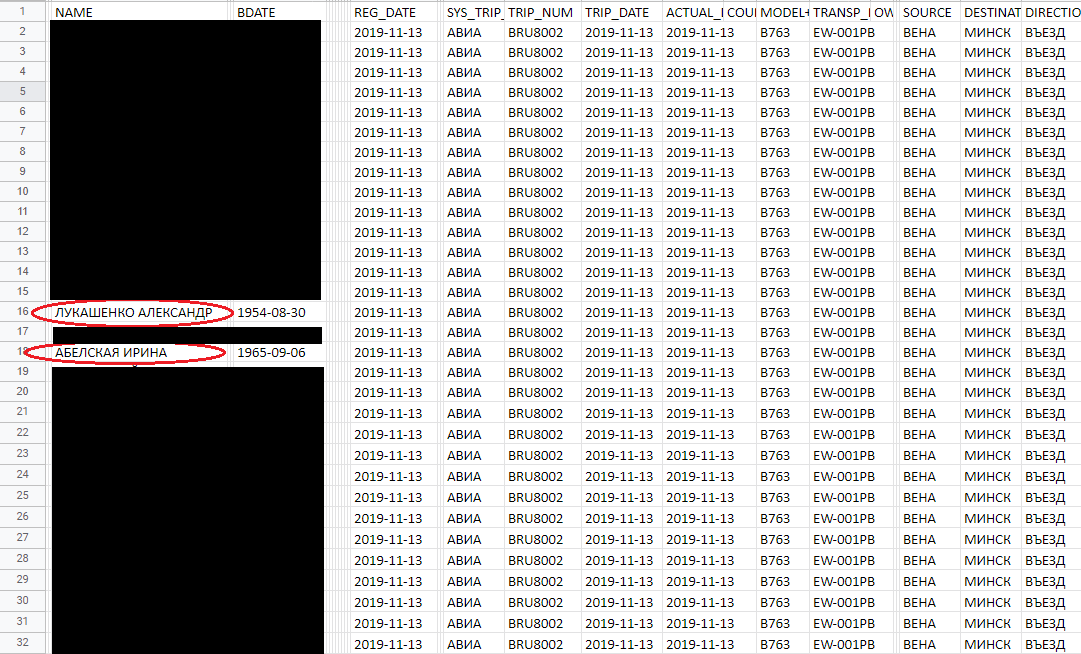 Despite this, Mr Lukashenka is more often seen with his private medic Sviatlana Kanashenka.
In 2019, while still in the public service, Miss Abielskaja founded an education company Gorizonty Znanij.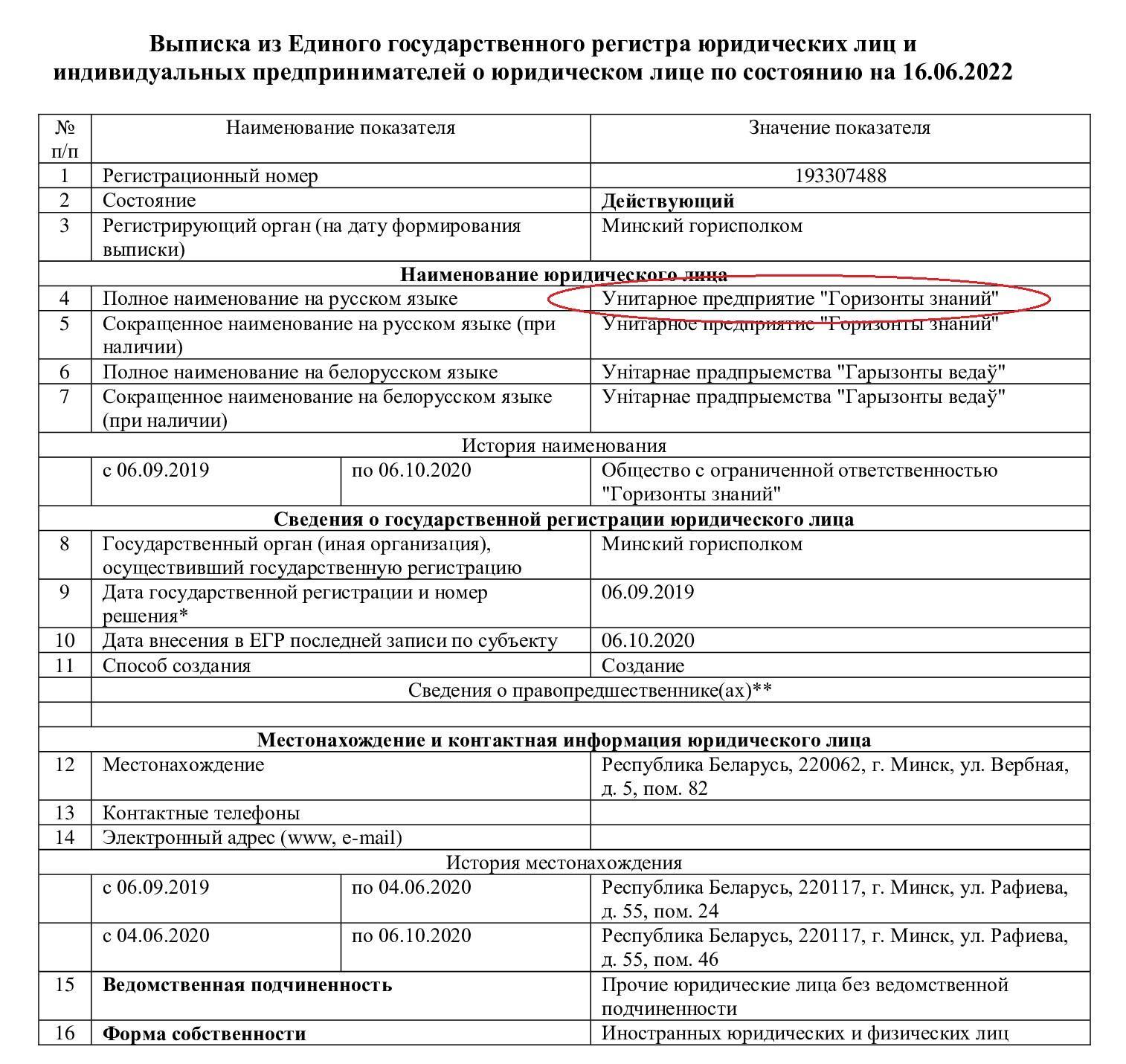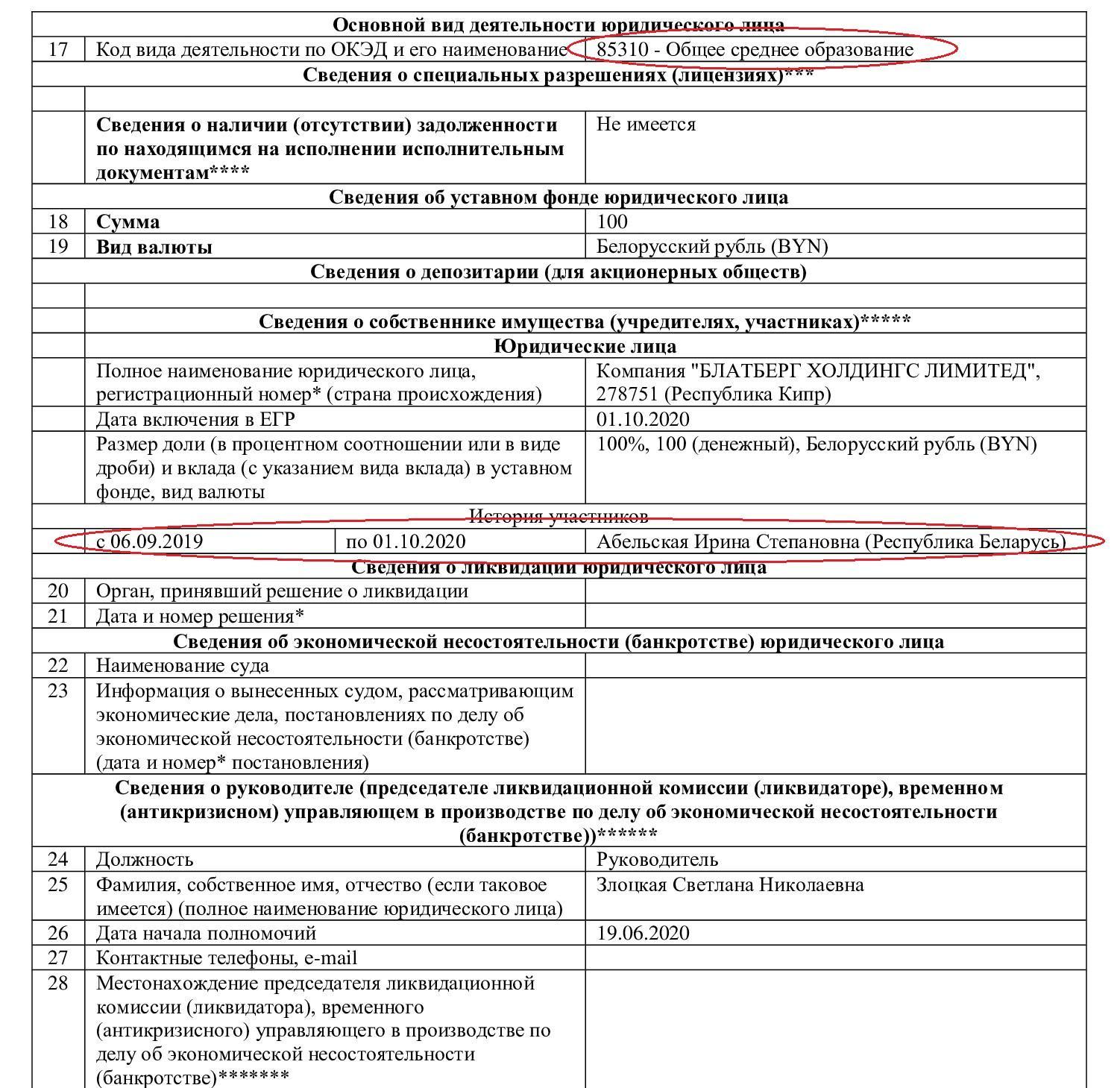 At the same time, a construction project went ahead in Drazdy, a suburb dedicated for top government officials, to deliver Minsk International Grammar School. The institution was designed for the children of rich parents, some of whom are affiliated with the Lukashenka regime. Mikhail Gutseriev, a Russian billionaire and Aliaksandr Lukashenka's friend, had pledged to deliver the project, and invest over $12m in construction and landscaping of the 30,000 square metre property over two years.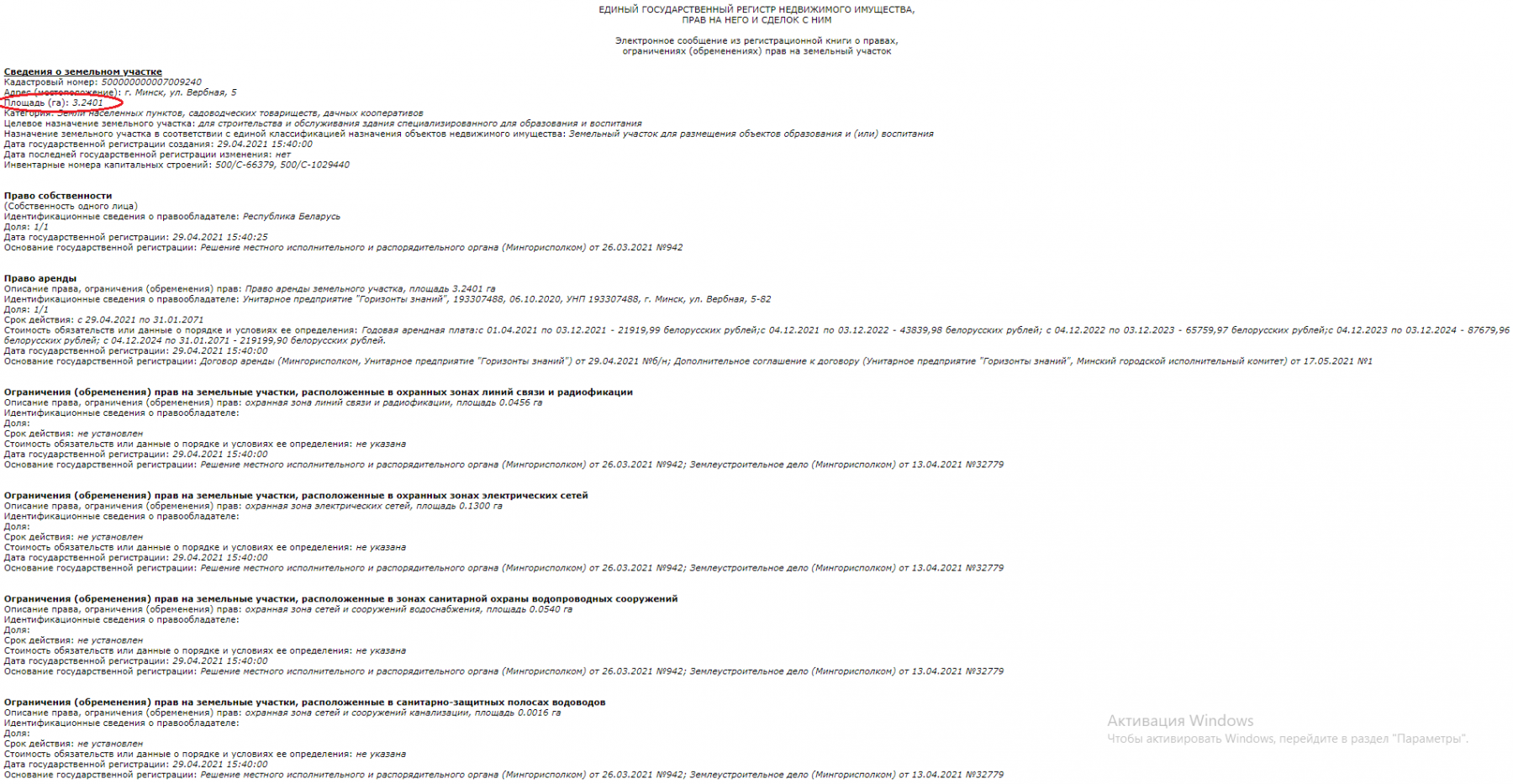 Mikhail Gutseriev had earlier gained rights to mine potash in Liuban District.
The Drazdy school consists of two four-storey blocks with an underground facility surrounded by basketball, futsal, handball, and gymnastics courts, a stadium, and a car park.

The blocks include a broadcasting centre, a photo and video lab, a weapons training room, and other facilities. The infamous KiPOD surveillance system used by Belarus security services keeps the facility under total control.
The main building contractor was SertusAvia, a company owned by a Cyprus offshore firm Blatberg Holdings Limited associated with Mikhail Gutseriev.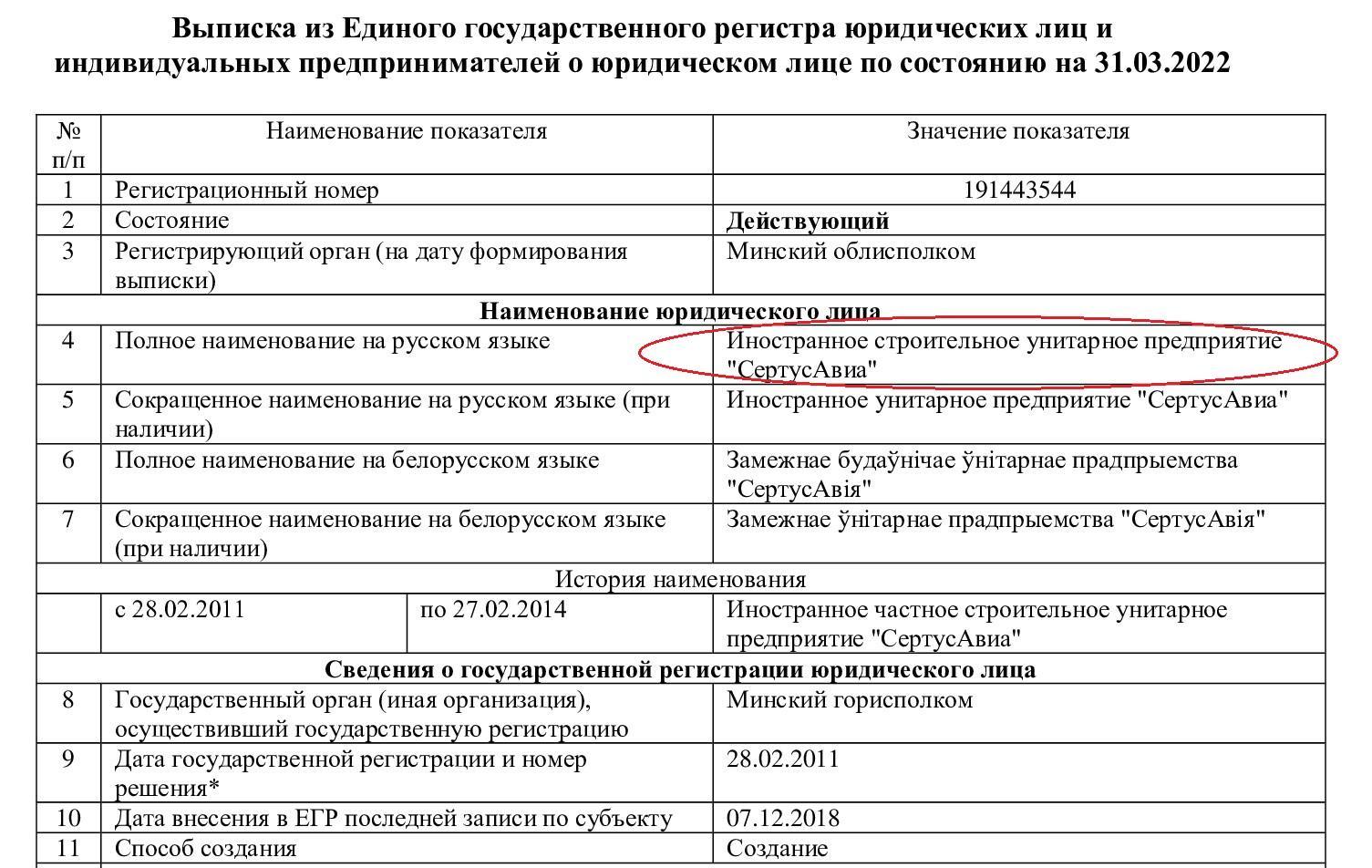 The operator became a private education company Gorizonty Znanij owned by Iryna Abielskaja.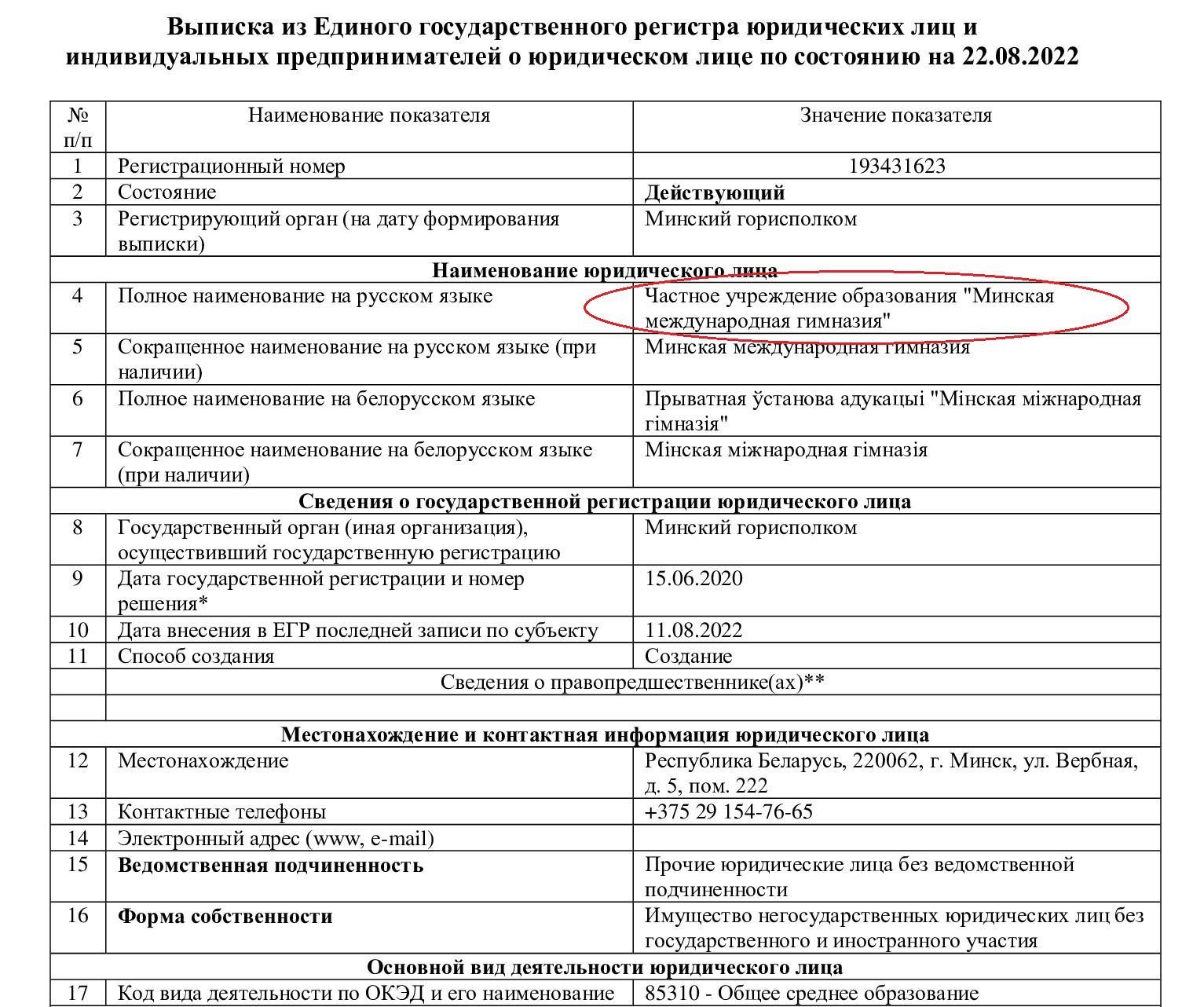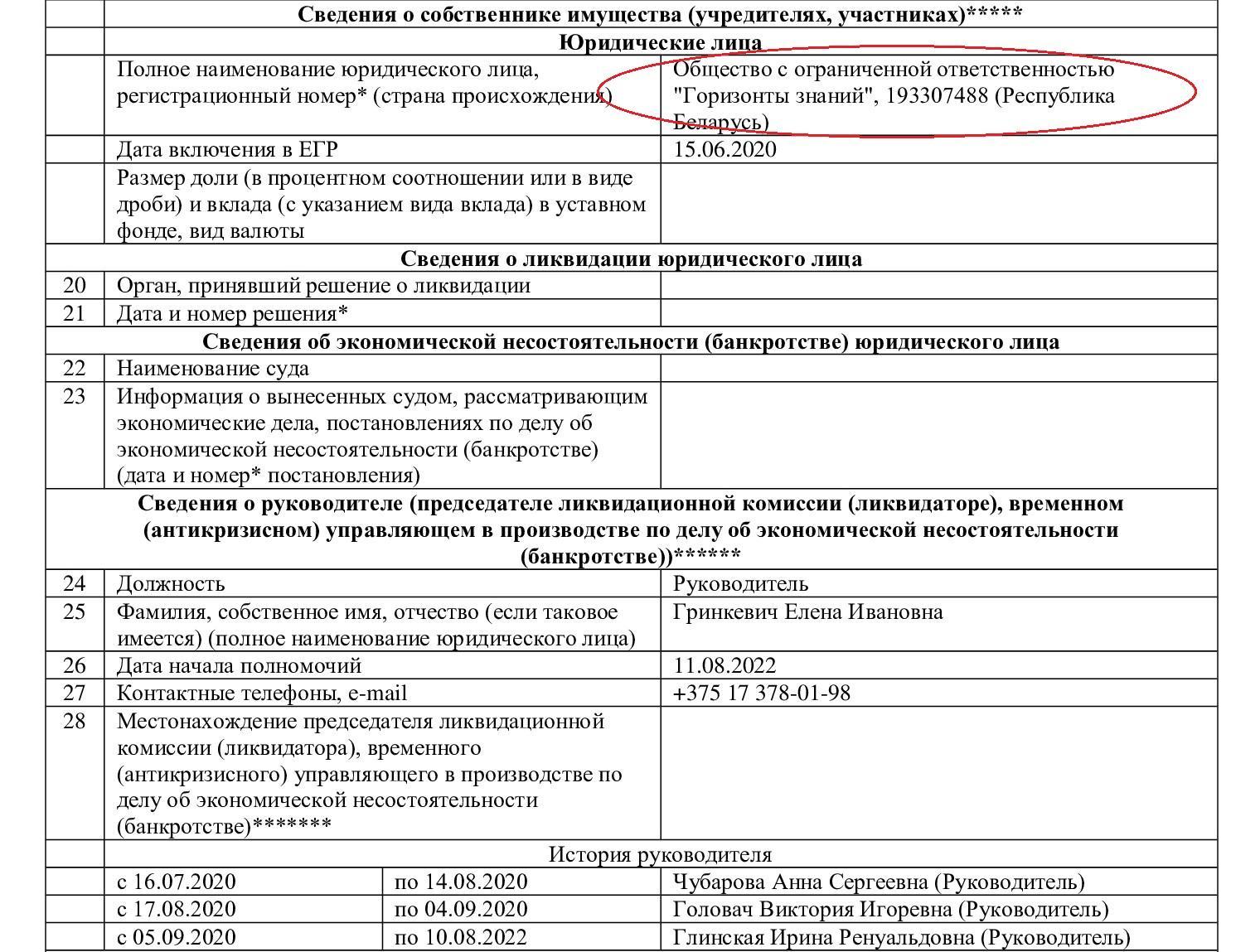 But a month after the school inauguration, Miss Abielskaja transferred her ownership to Blatberg Holdings Limited.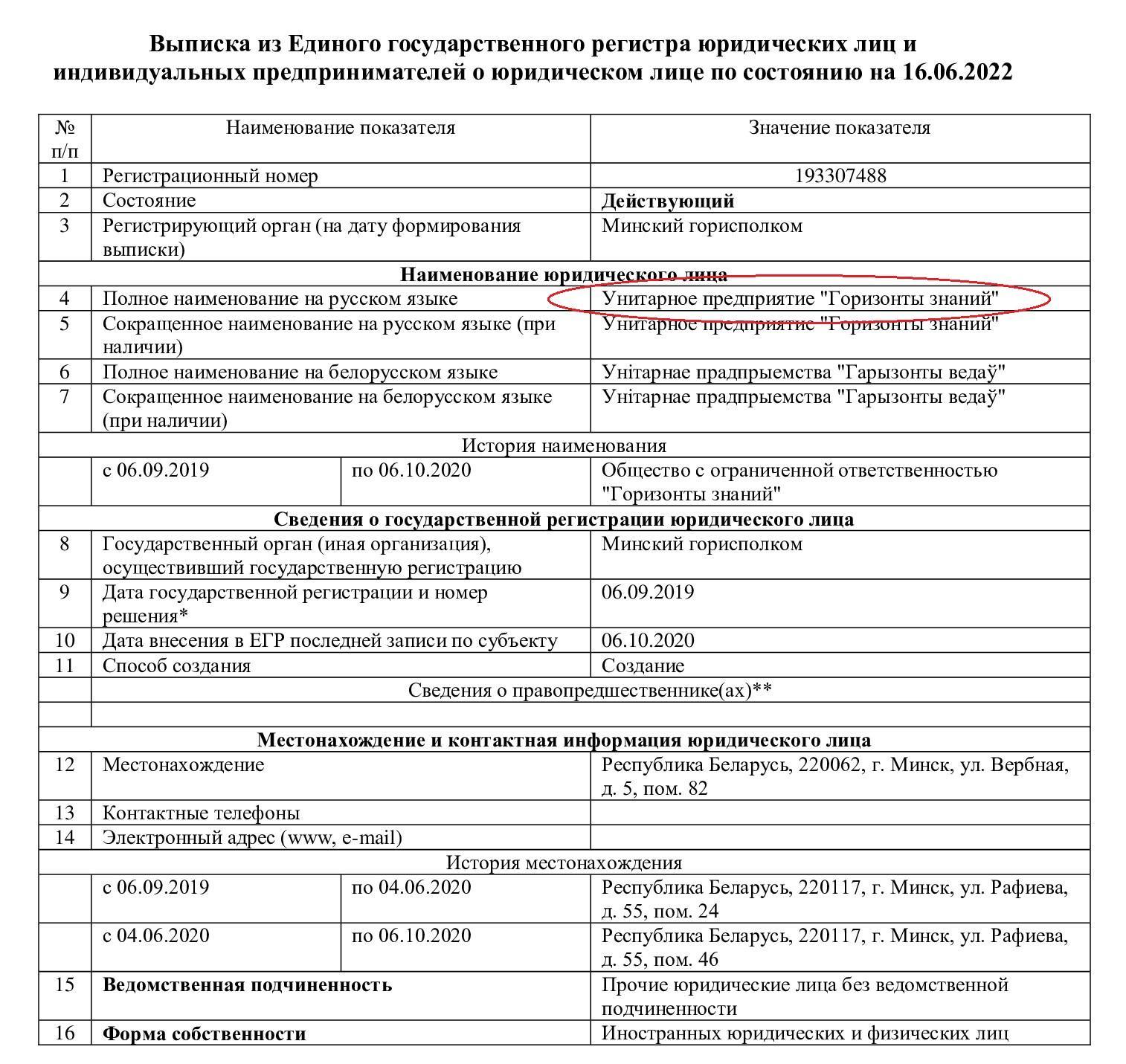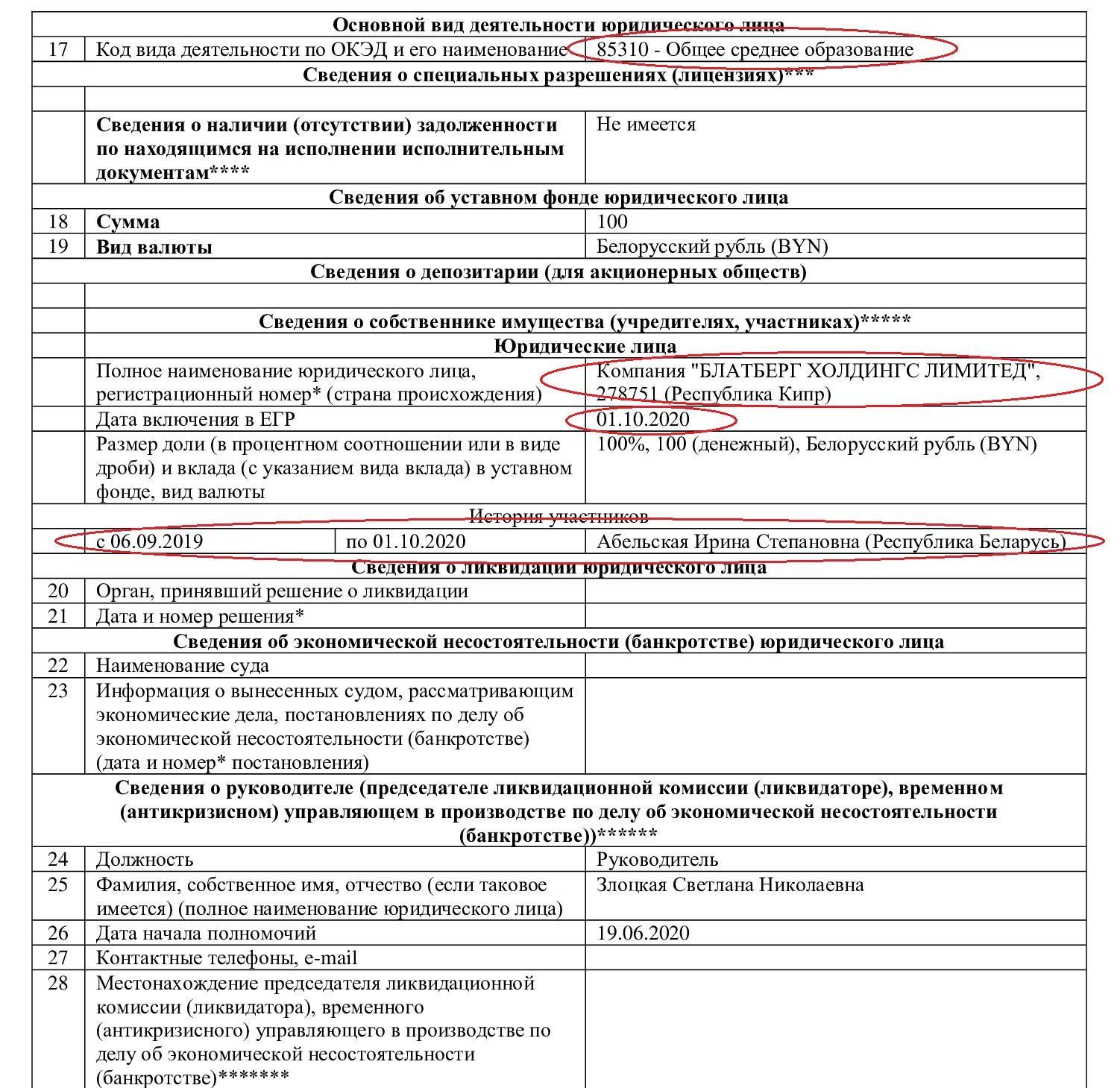 The Cyprus firm also owns Lukashenka's compound in Radaškovičy that Mr Gutseriev had purchased from the Directorate of the President of the Republic of Belarus some time ago.

According to our sources, Miss Abielskaja has been curating Mikalaj's education, appointing his teachers, and managing their transportation. And it was the Drazdy school that Miss Abielskaja ensured Mikalaj Lukashenka would go to instead of their earlier choice – the liberal Lyceum of Belarusian State University that may have been unsafe for Mikalaj's political views following the turbulent August of 2020.
At Minsk International Grammar School, Mikalaj Lukashenka's psyche will be safe among his peers such as Dzmitry Lukashenka's three daughters (who are also Mikalaj's nieces), daughters of his dad's henchmen Aliaksei Vysotski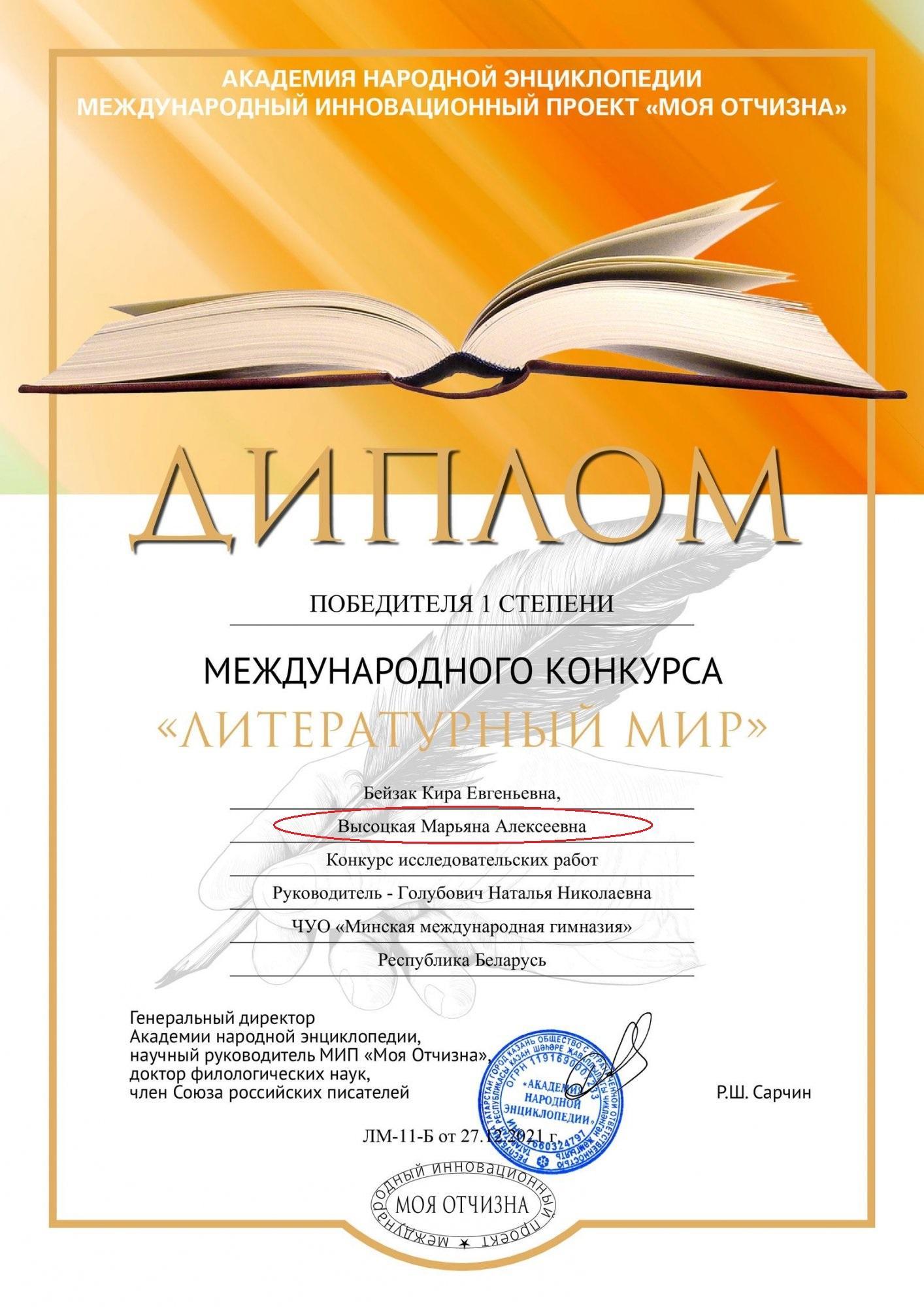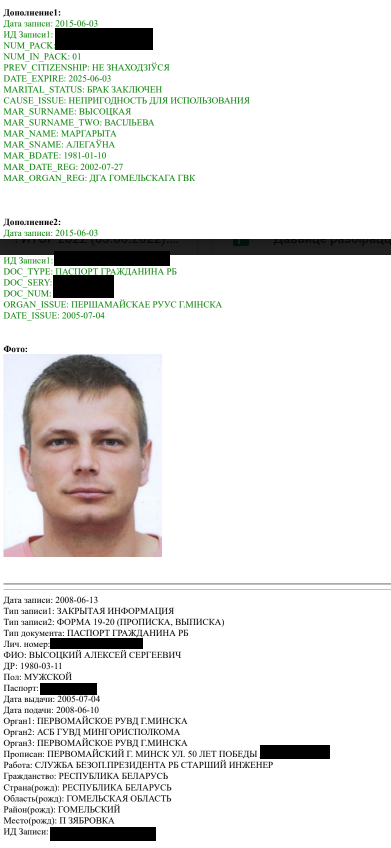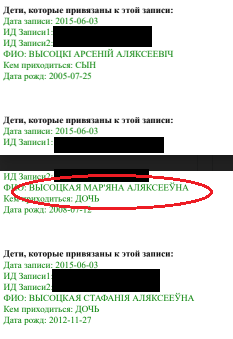 and Siarhei Povar,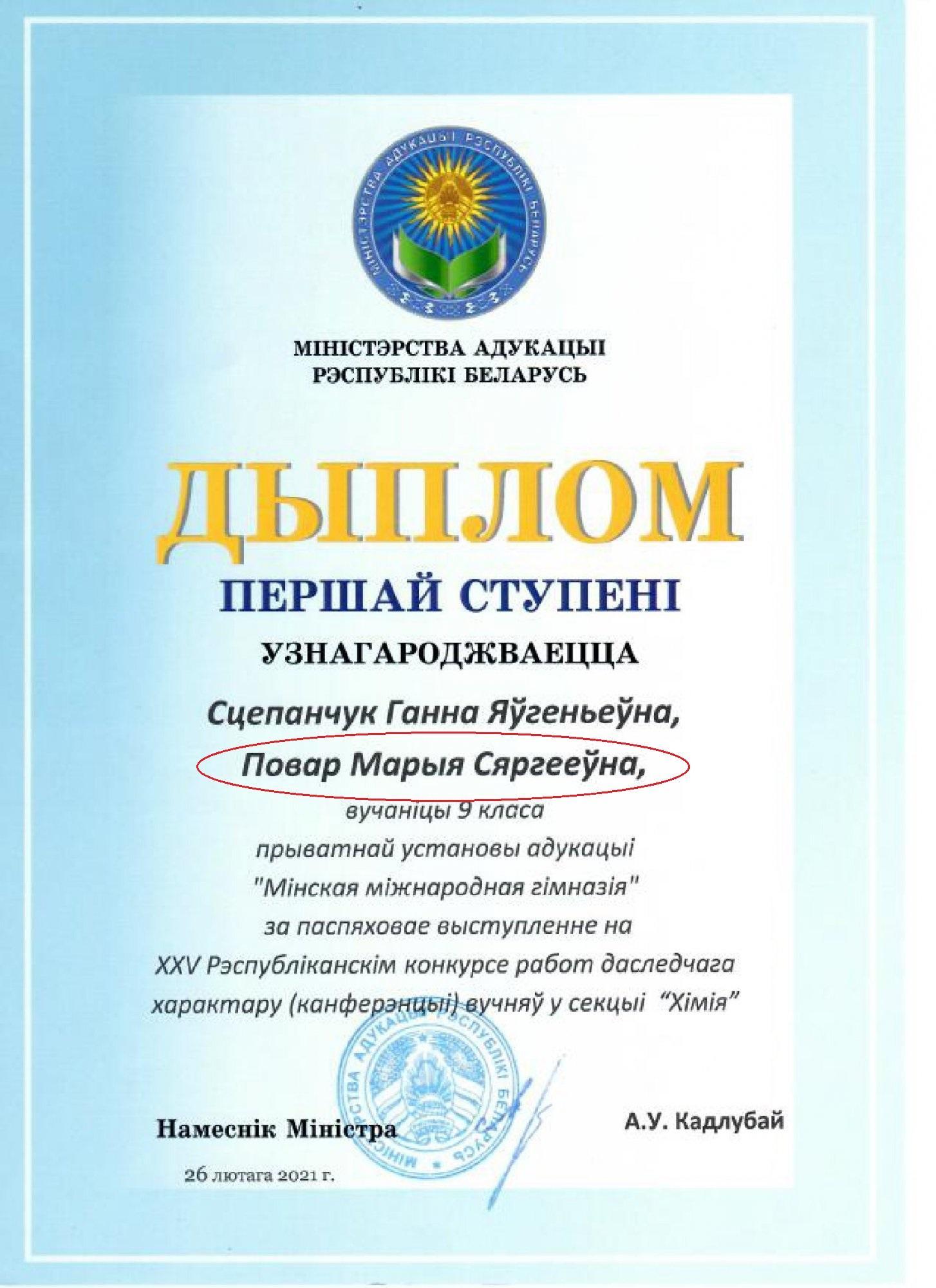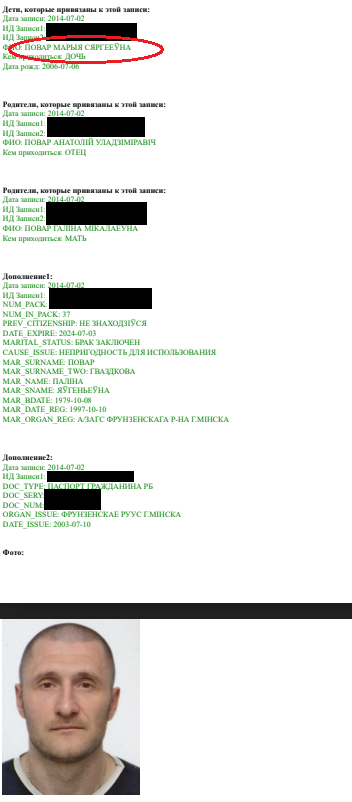 a daughter of Jauhien Biehzak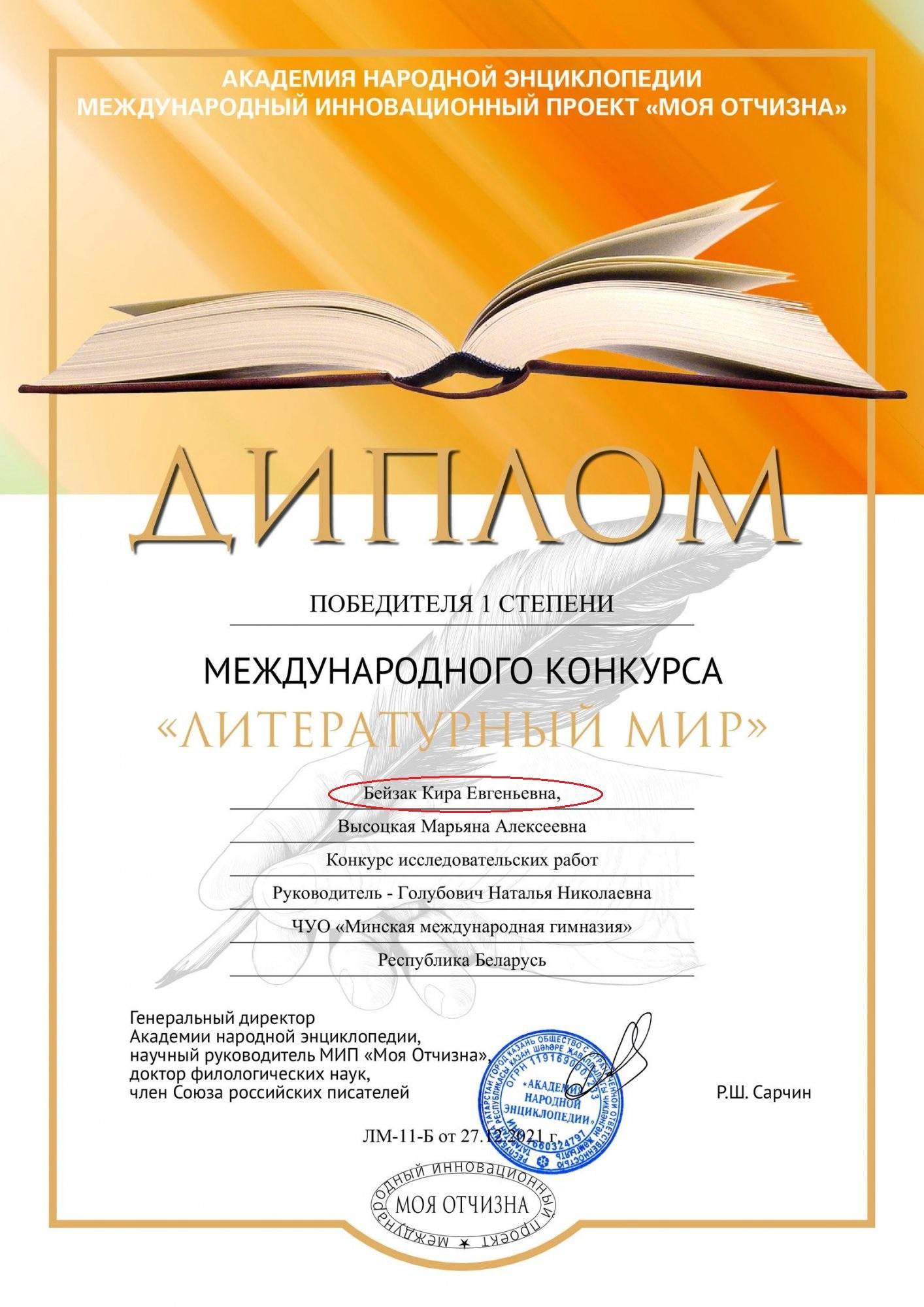 whose Harley Davidson club Viktar Lukashenka often visits, and other children of the regime's government and economic elite.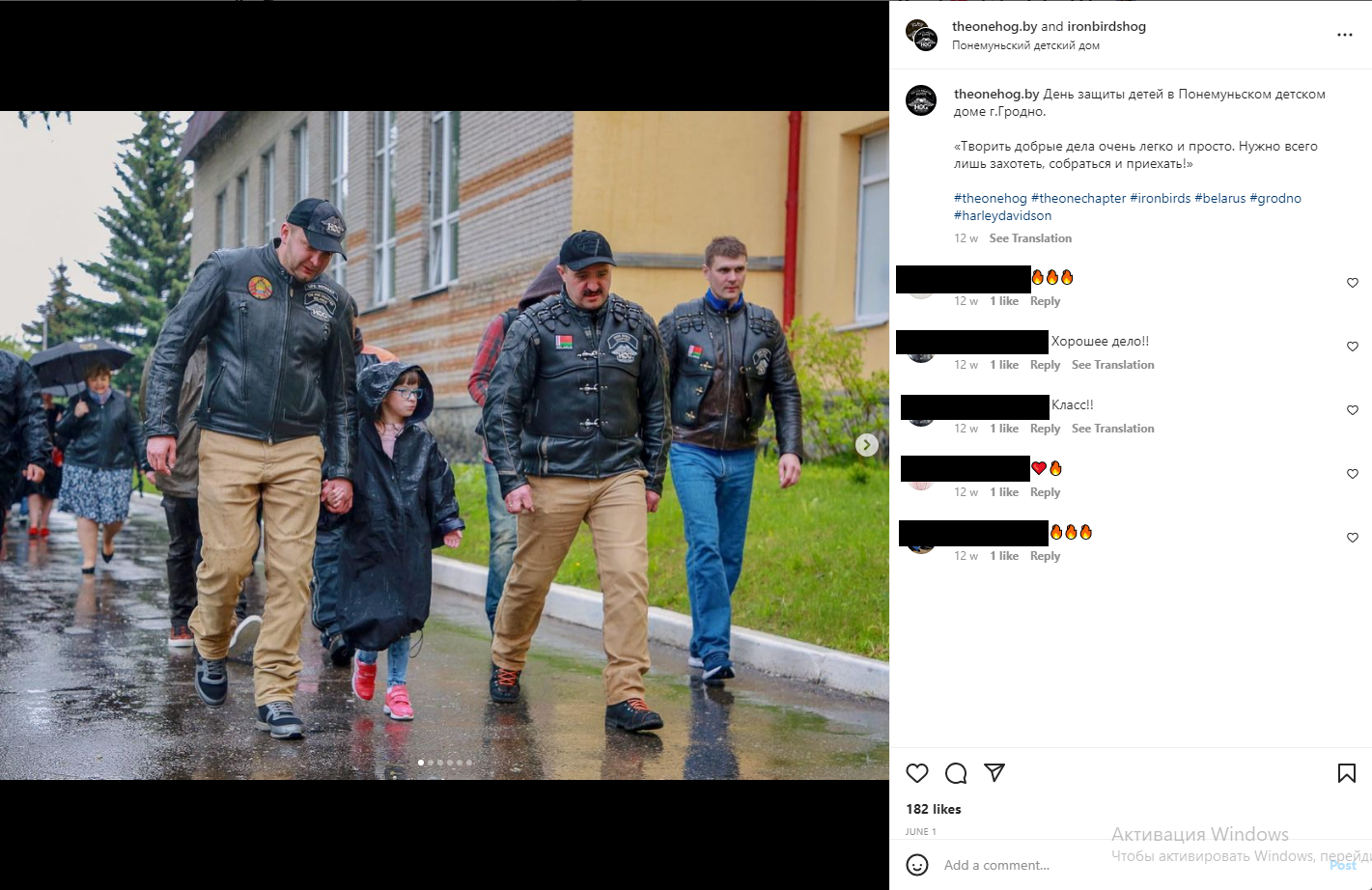 "We have all kinds of children, from businessmen to government officials, but we don't differentiate between them in our approach", – the school management has told us.
Interestingly, the new principal Elena Hrynkievich who started in August 2022,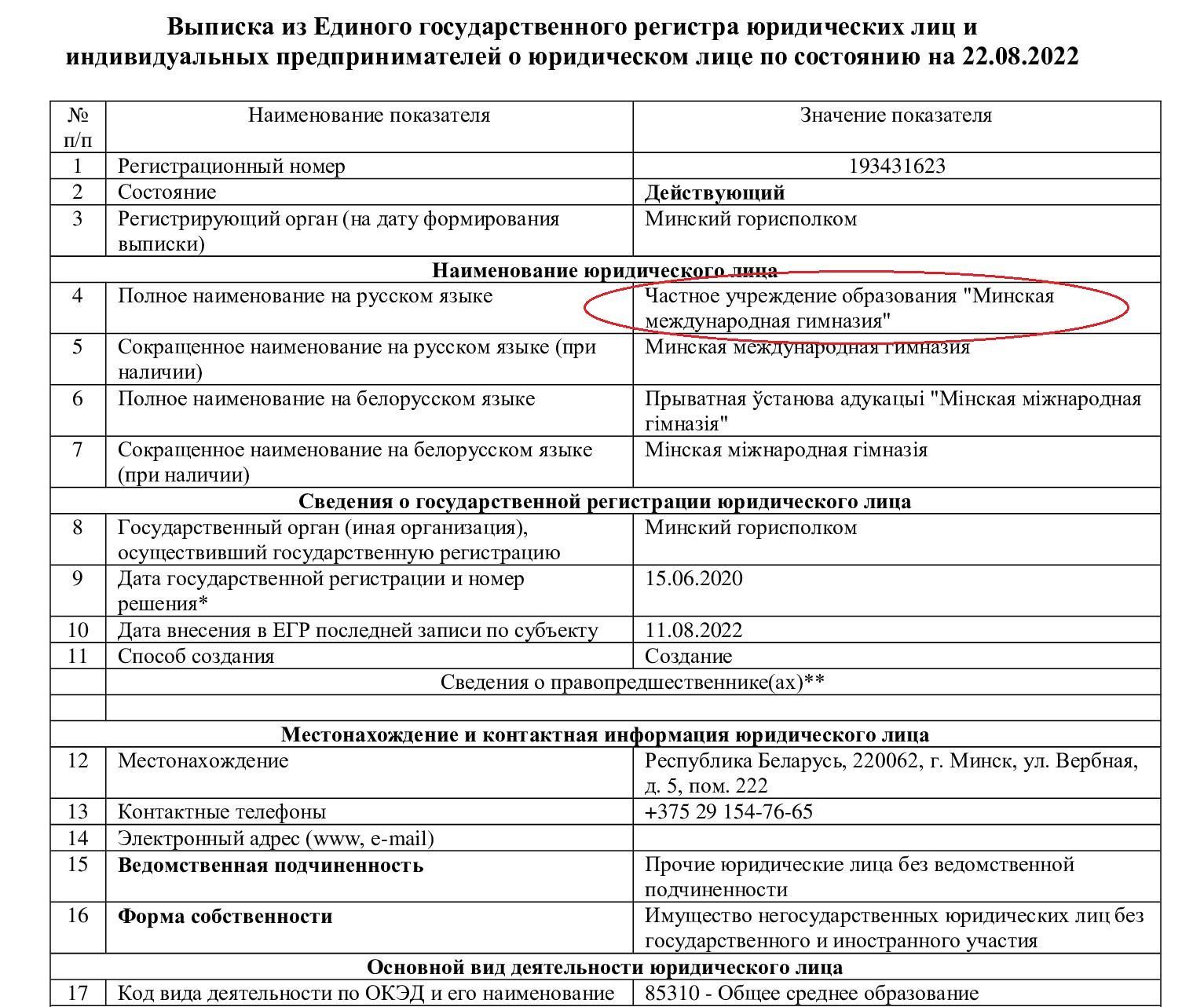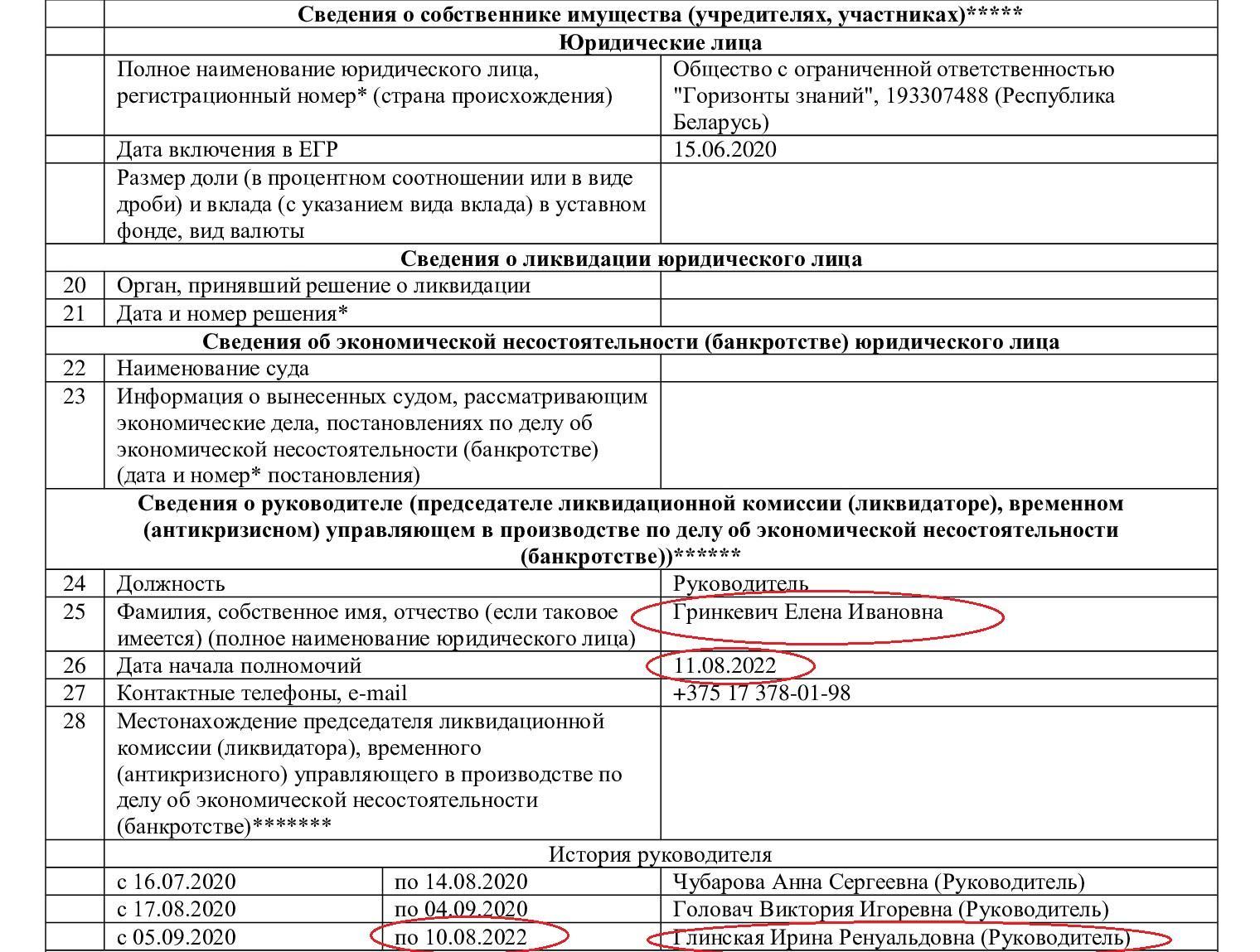 had used to be a lecturer at Belarusian State Medical University. She has categorically refused to answer our question whether Miss Abielskaja may have helped her get the job. But according to our sources, Miss Hrynkievich owes the favour to Gorizonty Znanij owners, despite the school having no shortage of vacancies.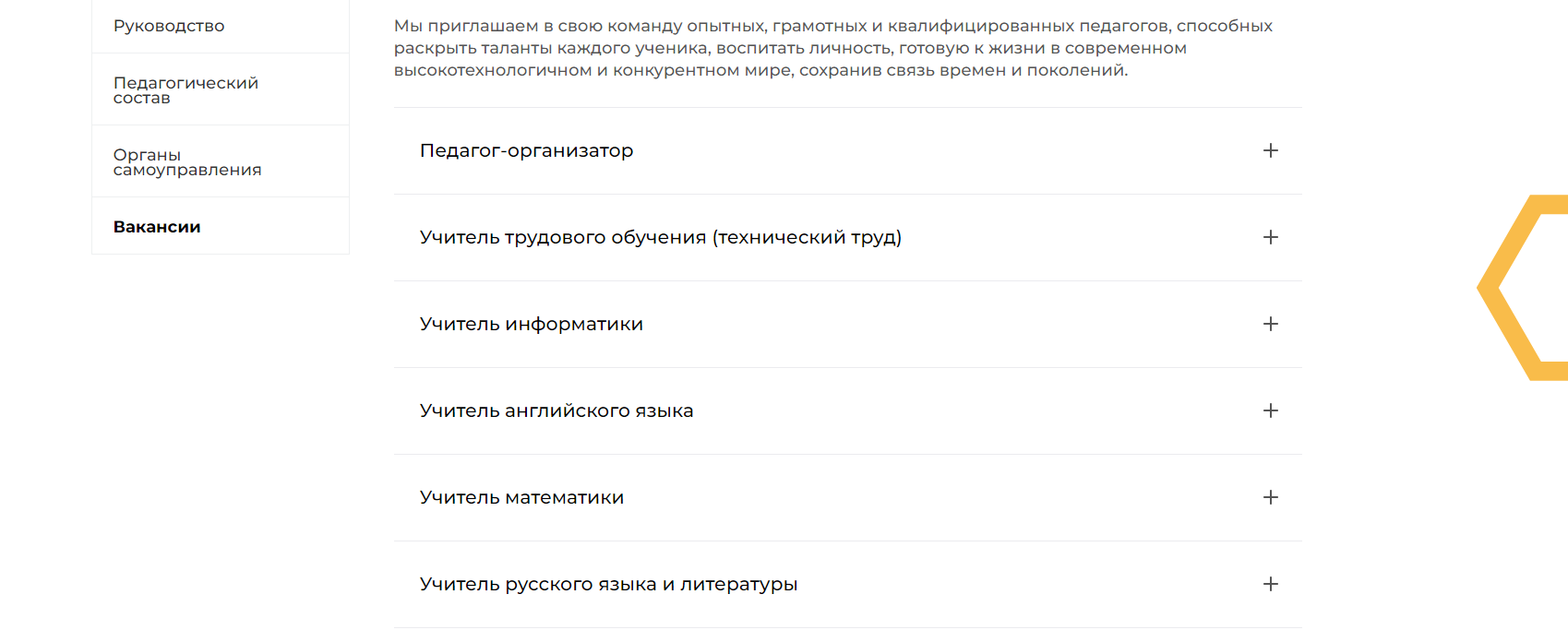 All you need is a Category One or Master-Level Category in teaching, a minimum of five years' experience, and a 'creative approach to work'. For this you will get a salary of 1200 rubels (equivalent to $470), no special employee benefits other than a 50 per cent discount for your own kids to study at the school, no free transport from Minsk, and you will have to bring your own lunch.
According to our estimates, the annual school fees at Drazdy are $3,000 per child, amounting to an annual revenue of over $1m.
Despite this, the government has been regularly subsidising the private school. For example, 2020 and 2022 tender documents expose over $100,000 worth of equipment procurements for laptops, sound systems, and photocopy machines that have been fully funded by the taxpayer.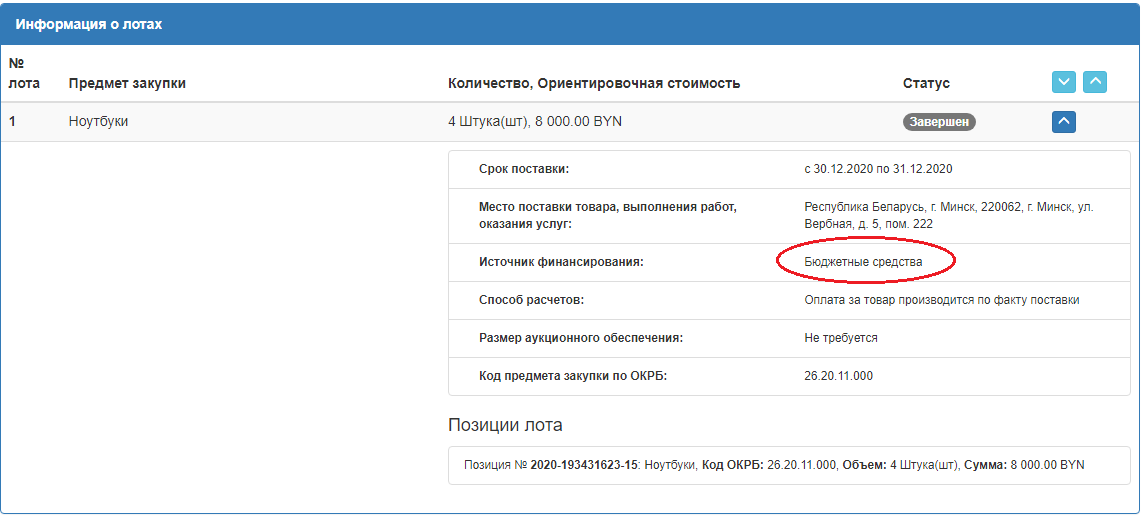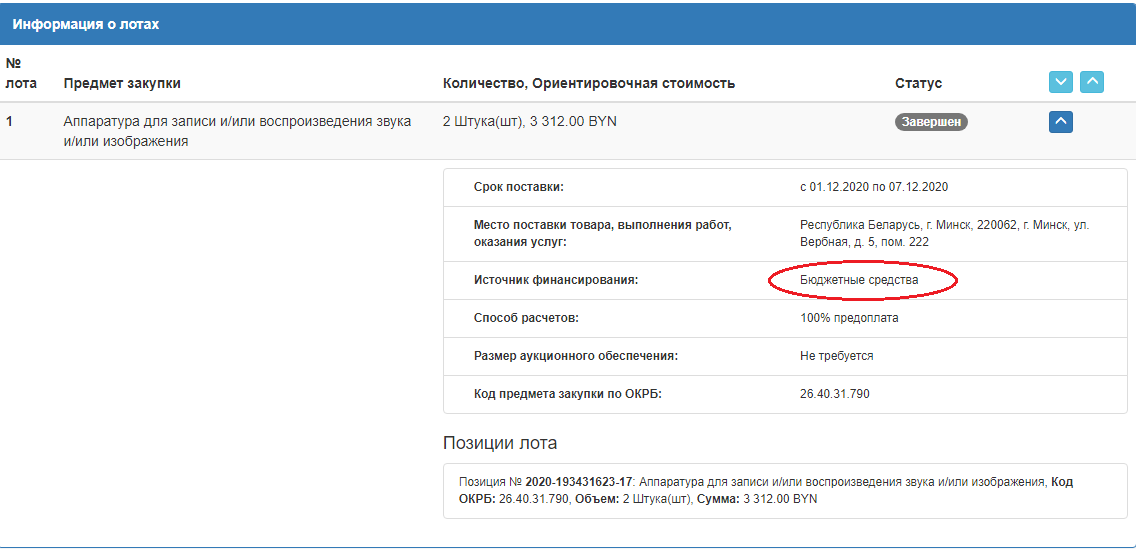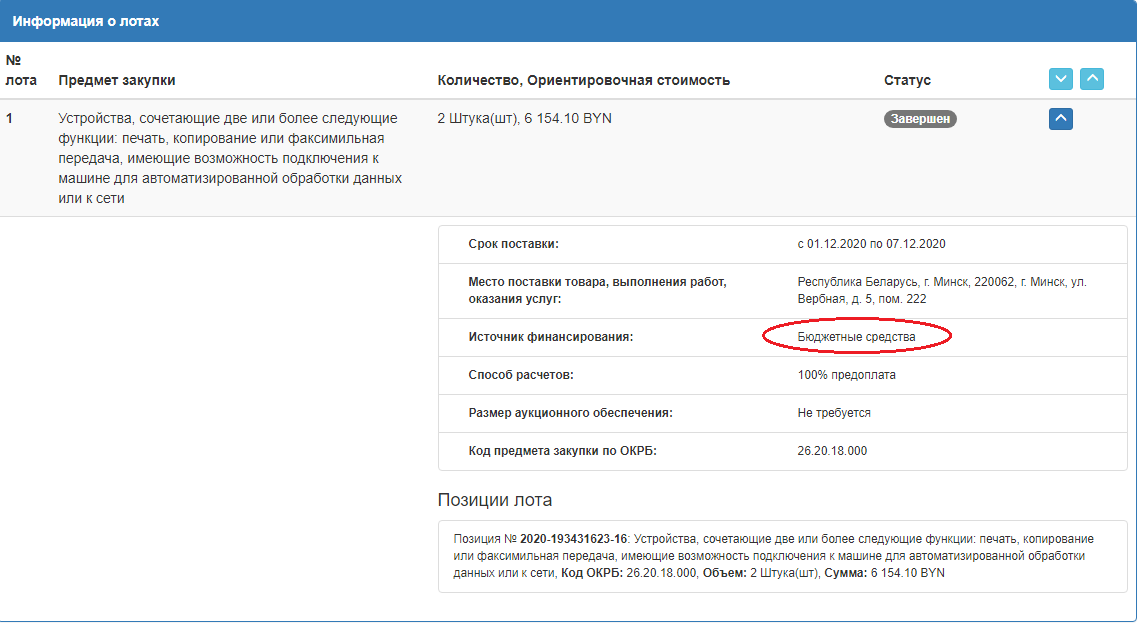 The legislation does not prohibit government funding of private schools if they are of experimental nature.
But the legislation specifies that such funding may only be granted from 1 September 2022. Why then, has the Abielskaja-Gutseriev school been enjoying government support for two years? With this question in mind journalists at the Belarusian Investigative Center approached Miss Abielskaja. The founder told us the question was 'not for her to answer'. We then contacted the school, but neither the accountants, nor the administrators wished to give an answer.
Our sources say the school had no legal basis to apply for government subsidies. And that it would have been the powerful founders who twisted the government's arm for cash support over the two years. But after the new legislation comes into force on 1 September 2022, the private school will be legally entitled to receive taxpayers' money, and will be the only one of its kind to do so.
The tender documents further reveal that the taxpayer has been subsidising $1,500 worth of student lunches at the elite school for four months.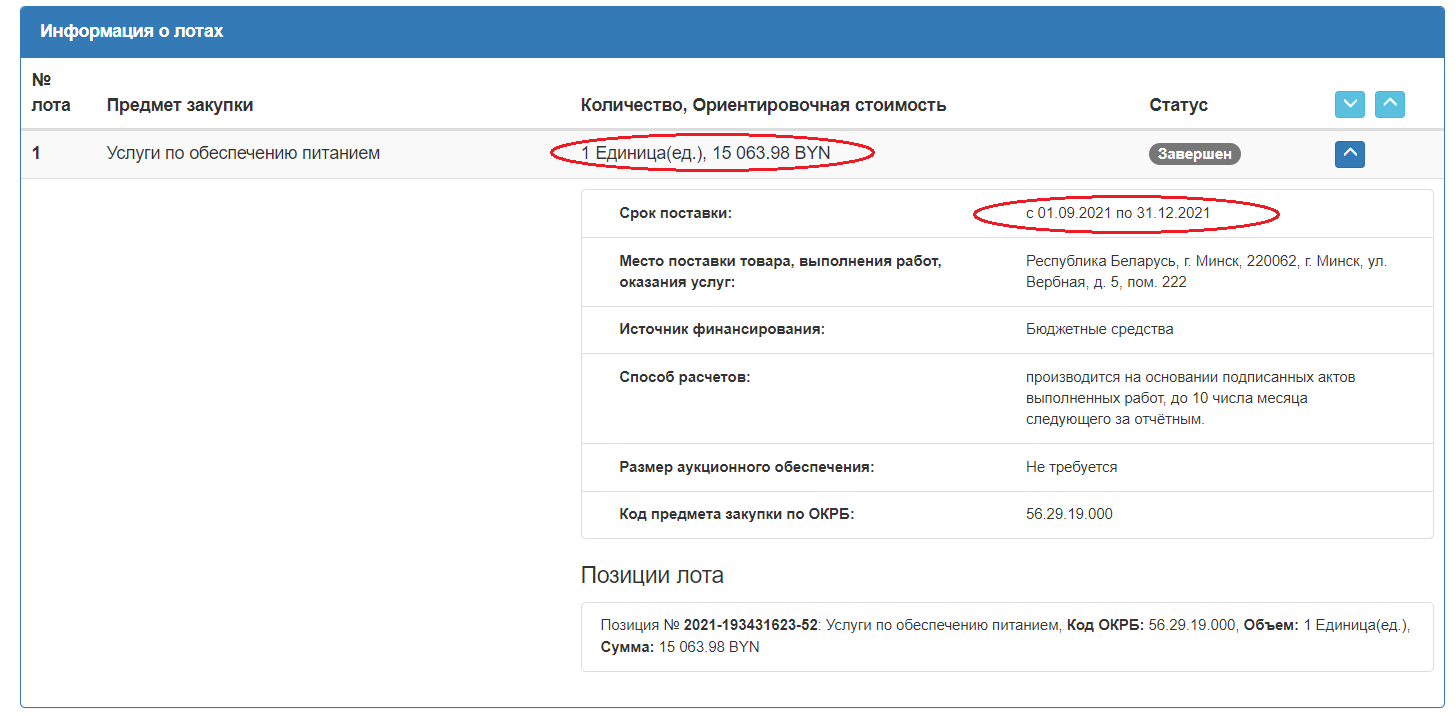 This was classed in single-source procurement contracts as food for 'children from low-income and multiple-child families, and other concession holders'.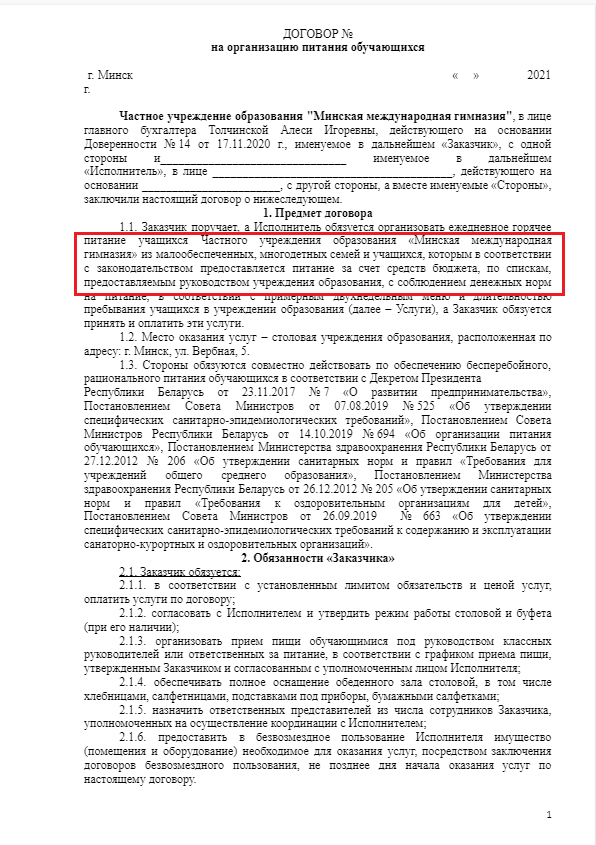 At the same time, the management has denied having any concession students and told us the lunches are covered by the tuition fees.

In 2022, the management milked the state budget for a further $40,000 for facilities and grounds cleaning services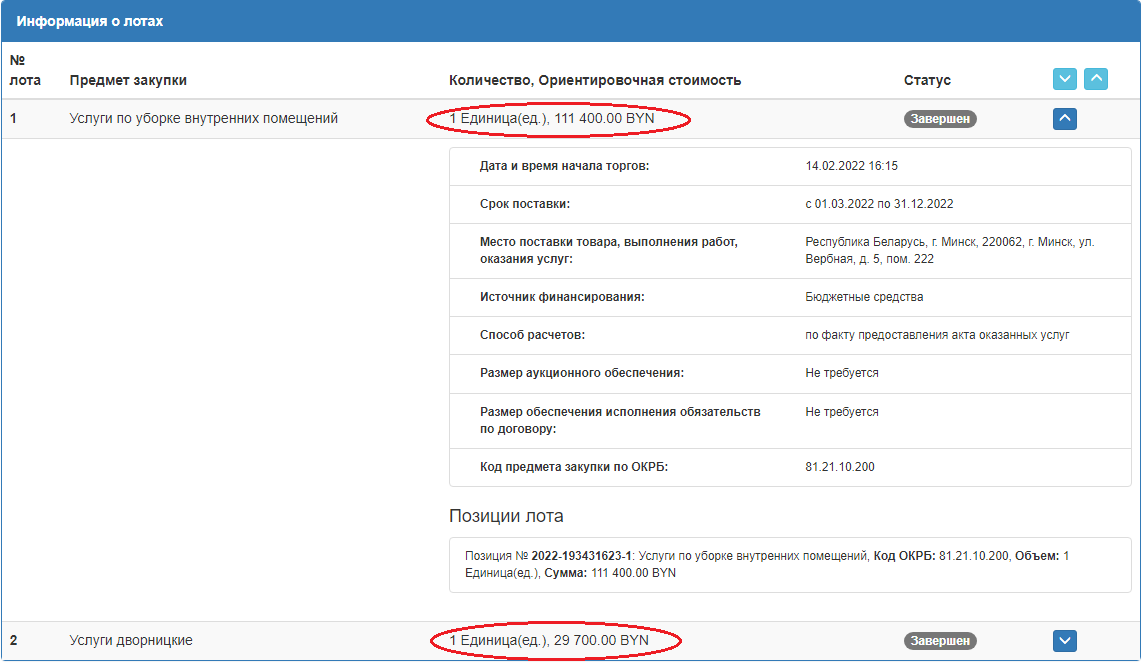 – perhaps anticipating the upcoming annual land lease costs of $80,000, coming into force from 2024 until 2071. Peanuts compared to the $1m in annual tuition revenue.

Other elite schools
There are other, public schools that fit the establishment's criteria. Ostroshitskii Gorodok High School, for instance, hosted Mikalaj Lukashenka for nine years from 2009. According to his father, it was the convenient choice given their nearby residence at Aziorny Compound. To accommodate Lukashenka's son, the school underwent a $3m refurbishment featuring a dual swimming pool and ice hockey classes.
A common School 16 became elite Grammar School 16 following upgrades to accommodate Mr Lukashenka's first granddaughter Viktoryia. In 2022, Viktar Lukashenka's son Aliaksandr graduated from there.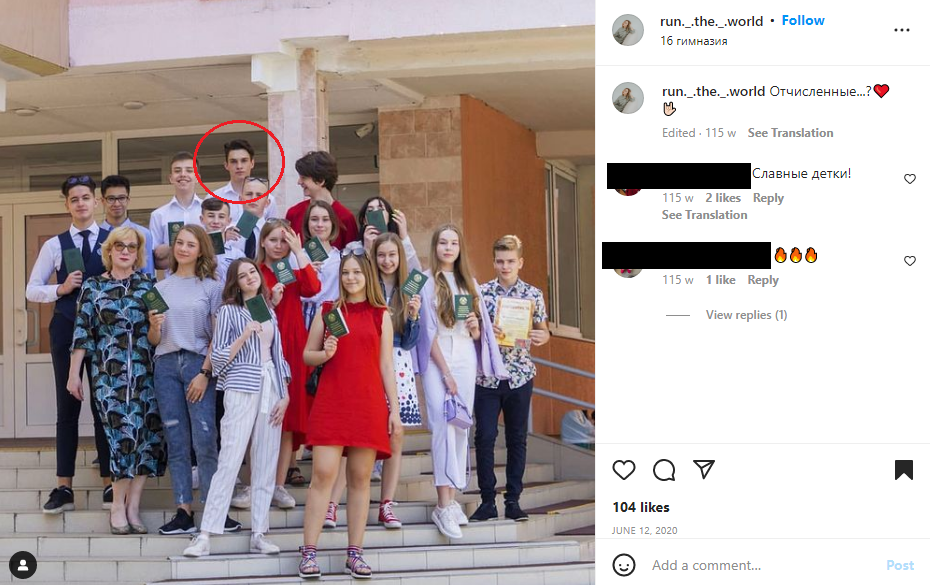 He had been studying together with children of the country's government, sports, business, and security elite. According to a Cyber Partisans hack, those included a granddaughter of Piotr Prakapovich (ex-head of the National Bank of Belarus), a daughter of Stanislaw Zas (General Secretary of Collective Security Treaty Organization), a grandson of Uladzimir Siamashka (ex-First Deputy Prime Minister, Ambassador of Belarus to Russia), and a granddaughter of Andrej Kabiakow (ex-Prime Minister).
Grammar School 16 features a roofed tennis court, a swimming pool, and a gym – which is almost unheard of by Belarusian standards. But when it comes to educational outcomes, the school is falling behind. In 2019, a for-official-use-only document was leaked exposing school ratings for the year of 2016. In it, Grammar School 16 had managed to score its best in physics, reaching a miserable 25th place out of 30 other grammar schools. The school's reputation was further tainted when its first principal was sentenced to eight years in a high-security prison for embezzlement.
The school's anonymous online reviews claim the management keeps forcing the widespread practice of parent donations to pay for maintenance of overcrowded classrooms that often have 30 to 40 students in them. But despite the overcrowded facilities, there is no shortage of applicants.
We do not know whether the school's Steering Committee has done anything to address those issues. But we do know the committee includes Viktar Lukashenka's wife Lilija and her friend Liudmila Niaronskaja.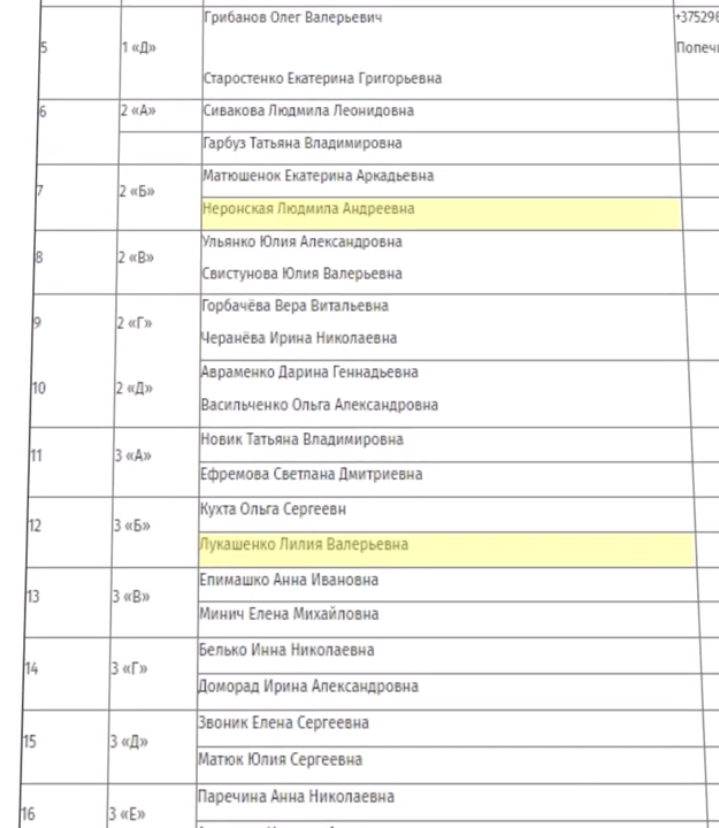 Our earlier investigations cover the two women's relationship and discuss Miss Niaronskaja's co-ownership of the only private prosthetics clinic that offers operations with foreign-made implants. The committee's earlier members include Stanislaw Zas's wife Inessa, Iryna Tatarnikava, and Uladzimir Siamashka's daughter.