Aliaksandr Shakutsin (Alexander Shackutin) is getting around the Western embargo and making money – and not just thanks to Amkodor Holding.
Caught
under EU sanctions as a moneybag for Belarus president Aleksandr Lukashenko, he arranged for the import of agricultural machinery from foreign manufacturers who had pulled out of the Russian and Belarusian markets. For this purpose, the businessman uses SV Maschinen GmbH, a company registered in Germany. In Russia and Belarus, it is known under the brand name SV Mashiny.
The piece was prepared in partnership with Vertska, a Russian publication, and Paper trail media, a German investigative newsroom, with the support of CyberPartisans.
The business linked to Aliaksandr Shakutsin is transparent. As an official dealer, SV Mashiny presented CNH Industrial and Amazone machinery in June at the Belagro-2023 exhibition. In July, the company disclosed on its official website that the flagship New Holland combine harvesters by CNH Industrial had arrived at its Novy Dvor warehouse.
This happened after the agricultural and construction equipment manufacturers announced their withdrawal. CNH Industrial Corporation, renowned for its Case IH and New Holland Agriculture brands, has issued an official statement regarding the suspension of deliveries to the Russian and Belarusian markets immediately following the outbreak of full-scale war in Ukraine. They have sold their Russian subsidiaries. Amazone said in March 2022 it would suspend deliveries to Russia and Belarus.
In 2010, a subsidiary company, Foreign Unitary Enterprise SV Mashiny, started operating in Minsk. [*][*] SV Maschinen GmbH's Russian subsidiary OOO SV Mashiny has existed since 2014. [*] Before this September, information about both offices was accessible on the Russian language edition of the official website of SV Maschinen GmbH. But now details regarding the Russian office have been deleted. [*]
Based on customs consignment notes for 2023, which BIC studied with the help of Verstka journalists, SV Maschinen GmbH exported machinery from the EU to Russia. The machinery was supplied by CNH Industrial, an American-Italian company, Amazone, a German company, Vaderstad AB, a Swedish firm, Samson Agro, a Danish enterprise, and Deere&Company, an American company. The latter company also officially withdrew from Russia after the Ukraine invasion.
Sanctions Bridge
Under the guise of a client, a BIC investigator communicated with a representative of the Belarusian branch of SV Mashiny. During the conversation, the employee disclosed information about their latest product – a McCormick tractor. It is an American brand owned by the Italian company Argo and manufactured in Spain, France and Germany.
"We will have McCormick 7 and 8 series in November or December. The Puma machines (tractors manufactured by Case IH) we... have supplied and will continue to supply," they told the BIC journalist.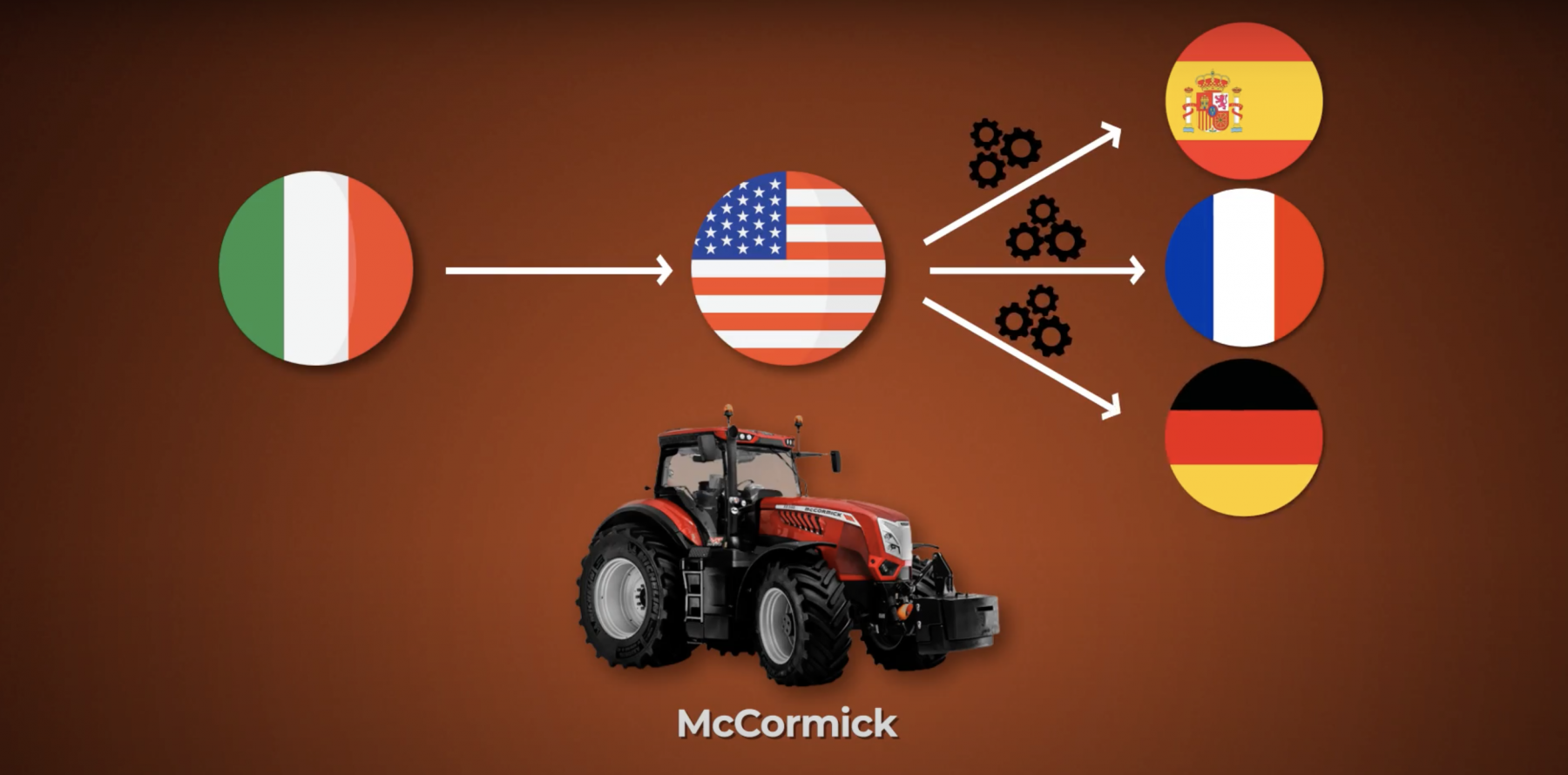 Between April and June, SV Maschinen GmbH executed 50 deliveries to Russia with a total value of more than €12.5 million. Deliveries in 2021 did not exceed €630,000. The range of imported goods has changed. While in 2021 the company shipped mainly parts for agricultural machinery, in 2023 it shipped more vehicles.
The office in Belarus ended 2022 with a net profit of 3.4 million Belarusian rubles, almost a million rubles more than in 2021. [*] The Russian subsidiary earned just over 2,000 euros in 2022.[*]
The equipment shipped by the Shakutsin-related firm is produced in Austria, the United Kingdom, Germany, Sweden, Poland, the United States, Belgium and Denmark. It is shipped to the Russian regions mainly via Brest directly to the purchasing companies. Before mid-July 2022, deliveries were mainly made via Kaliningrad.
Changes in the Western Market
CNH Industrial has stopped directly supplying Russia with machinery. But its European representative offices, mainly in Poland and Italy, sell the equipment to a Belarusian company registered in Germany, which then delivers it to Russia.
SV Maschinen GmbH provided Russia with 18 CNH Industrial Italia S.P.A. tractors made in Austria and Great Britain. The machines were delivered to the Technotrade and Business Market companies.
The method SV Maschinen GmbH uses to export to Russia has also changed. Before mid-2022, the company provided the transportation to the intended location. Now buyers are responsible for collecting purchases from an agreed-upon location and for taking any associated delivery risks.
The delivery notes obtained by BIC indicate a significant increase in the worth of exported goods to Russia in the previous three years: $383,500 in 2020, $1.8 million in 2021, and $9 million in 2022.
On 10 October, the BIC sent official inquiries to the manufacturers requesting clarification of how this incident aligns with their choice to depart from the markets of Russia and Belarus. Our partners from Paper Trail Media have sent requests to CNH Industrial and Deere&Company multiple times in September 2023, but neither the BIC nor our German colleagues have not yet received any responses at the time of publication.
The rise of Shakutsin
Shakutsin graduated in 1986 from the medical institute in Minsk, where he served as deputy secretary of the Komsomol committee. He then took charge of the 1st surgical department of the 10th Minsk City Clinical Hospital, and later was appointed leader of the medical center at Minsk Tractor Plant.
After Belarus became independent in 1991, Shakutsin, according to him, took advantage of new opportunities by using his connections with friends and ex-colleagues from the Komsomol, medical industry, and Minsk Tractor Plant. At the same time, he made sure to collaborate closely with government agencies. Together with Igor Subbotin, who reportedly oversaw foreign economic activity at Minsk Tractor Plant, he established the Scientific and Production Association Prommedinvest (now LLC Saleo – Holding Managing Company), which supplied medical equipment.
Igor Subbotin and Aliaksandr Shakutin are long-time business partners. Both worked at Minsk Tractor Plant in the past. In 1997, they established Prommedinvest, a scientific and production association. It is currently known as LLC SALEO - Holding Managimg company. They co-own the company till this day. [*][*]
Shakutsin and Subbotin worked together to privatise Amkodor in 2001.
Subbotin was once an assistant to Shakutsin when he was a member of the Council of the Republic and, as per tribuna.com, Subbotin served as Shakutsin's deputy in the Belarusian Tennis Federation.
The two businessmen were partners in several companies, including LLC Amkodor-Tsentr, LLC Amkodor-Servis, LLC Techpromimpeks, LLC Iskamed, SV Maschinen GmbH, SIA Anulatrans, and UAB Em System. [*][*][*][*][*][*]
In the naughties, the Shakutsin's era at Amkodor began. Before that, the company's workforce owned shares, and Vasil Shlyndzikau had been its manager since Soviet times. Amkodor succeeded in a market economy, including by assembling Ikarus buses in Belarus.
In 2001, Shakutsin and a group of Nepali entrepreneurs a Minsk Polytechnic Institute alumnus, started purchasing Amkodor shares. They managed to accumulate about 60 percent of the company's shares.
In 2011, President Lukashenko issued a decree that allowed three factories to be sold to Amkodor. They included Dzerzhinskiy Zavod Agromash, Zavod Epos in Logoisk, and Minskiy Priborostroitelny Zavod, which is now called Amkodor-Belvar.
They total sales price was only a little more than $1.8 million. But the contract included an obligation to invest in increasing production and protecting jobs.
Shakutsin was also engaged in the mass re-export of flowers to Russia, taking advantage of tax benefits established by a Lukashenko decree dated August, 11, 2011 "On stimulating the sale of goods". An earlier investigation we carried out together with the Projekt and Naviny, "How Lukashenka's entourage earns money from Russians", showed that Belarus was considered one of the largest exporters of flowers to Russia, but only on paper. Following the publication, Russian customs officials began detaining lorries carrying flowers and redirecting them to temporary storage facilities.
Shakutsin is now experiencing difficulties with assets he pledged under import substitution schemes. A court hearing on the bankruptcy of LLC Saleo – Holding Managing Company, another enterprise controlled by Shakutsin, was scheduled for the end of October, but the government extended the financial recovery period (a set of measures to avoid bankruptcy) until October 19, 2028.
Following a 2014 Lukashenko visit to that company, his press office stated that "the holding will be capable of totally replacing hydraulic machine imports to Belarus and fully satisfying the demand of Belarusian machine-building companies for high-quality, modern components within three years. Furthermore, roughly 40% of the goods produced are intended for overseas markets." More than $160 million was invested in the holding, with the majority of that funding specifically aimed at upgrading production in Dziarzhynsk and Gomel, cities currently experiencing financial hardships.
Confusing the Europeans
Our inquiry exposed how a businessman connected to the officials of Belarus' government enriches himself, even with personal sanctions and other limitations. Shakutsin is known for his informal ties with Lukashenko. They harvested potatoes together, took business trips as a team, and Lukashenko accompanied the businessman on his wedding trip. They paid a visit together to Lukashenko's mother-in-law. Shakutsin supported Lukashenko in the 2020 elections and took part in his secret inauguration.
Shakutsin is included in the EU sanctions register as a boss and leader of the businesses UAB EM System, Anulatrans SIA, Amkodor-Tsentr, Iskamed, PMI Engineering, SV Maschinen GmbH and Amkodor. We showed the activities of Amkodor in the investigation "Bulldozing through sanctions. How Aliaksandr Shakutsin, owner of Amkodor, earns money despite embargo".
The SV Maschinen GmbH scheme highlights problems with supplying goods to Russia on behalf of manufacturers who have pulled out of the market due to the Ukraine conflict. German registration enables companies to claim European residency, allowing entrepreneurs listed as accomplices to Lukashenko's regime to conduct business in the European Union, despite imposed sanctions.
In the BIC investigation "Lukashenko's sanctioned 'wallet' Shakutsin continues business in the EU despite sanctions", experts explained that his company managed to circumvent EU sanctions thanks to a convoluted ownership structure. It was changed in September 2020, shortly before restrictions were imposed against Shakutsin. At the time of publication, 70% of SV Maschinen GmbH is owned by Lithuanian EM System, with the remaining 30% owned by Shakutsin's business partner and director Valentin Yahorau. [*]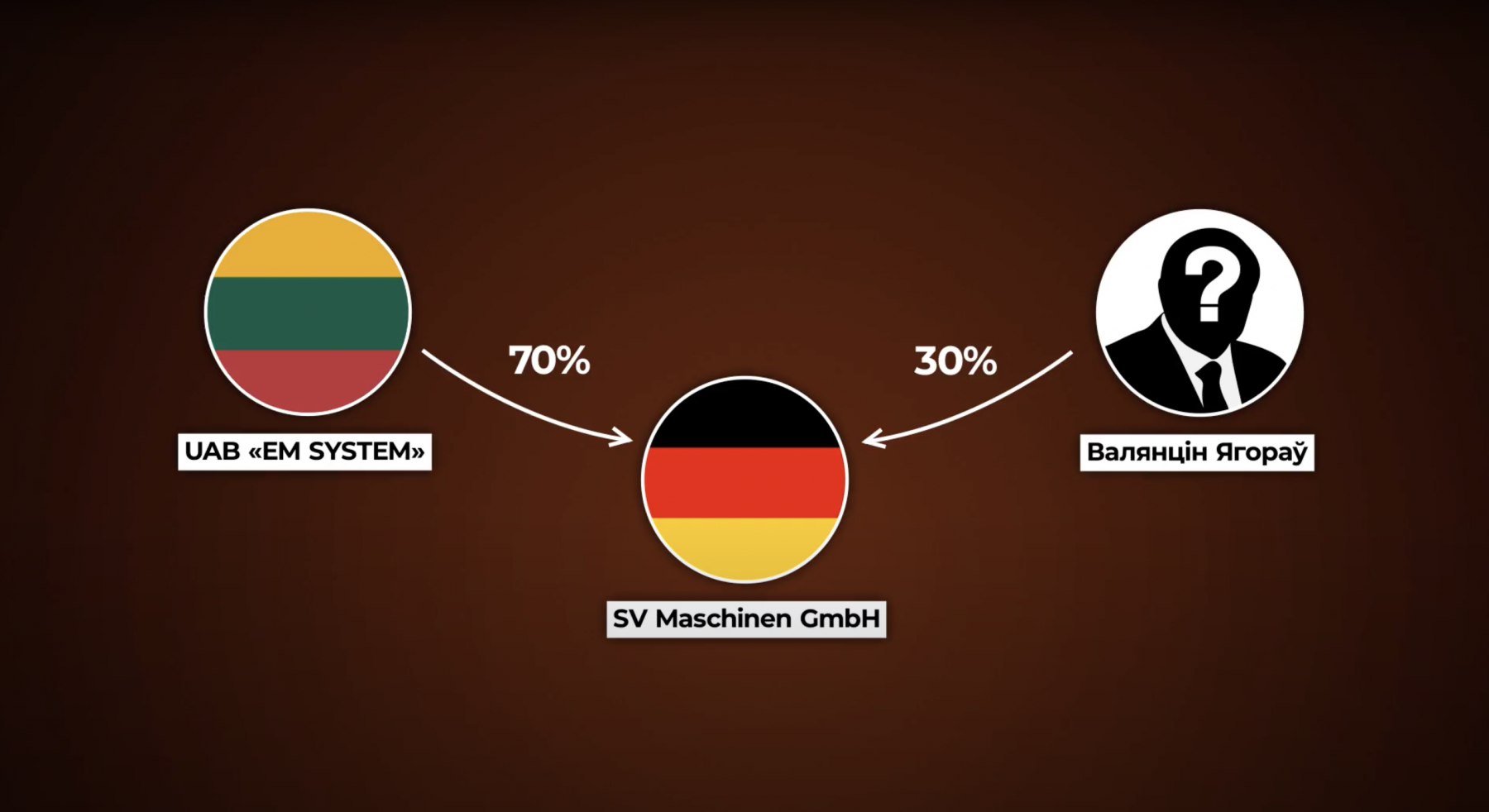 Lithuanian EM System is owned by Shakutsin and his longtime Belarus business partner Igor Subbotin. The company is under Lithuanian national sanctions, its accounts are blocked, and its real estate and other assets are frozen. [*]
To understand how the EM System's restrictions affected SV Maschinen GmbH, we contacted the Financial Crimes Investigation Service of the Lithuanian Ministry of the Interior. A formal request was dispatched by the BIC on 16 October. We simultaneously contacted Valentin Yahorau, a co-founder and part-time manager of SV Maschinen GmbH, along with EM System proprietors Aliaksandr Shakutsin and Igor Subbotin, requesting their comments on the operations of SV Maschinen GmbH. At the time of publication, we have not received responses from European officials or Belarusian businessmen.
German Paper Trail Media, BIC's partner in this investigation, has posed inquiries to pertinent German agencies regarding whether SV Maschinen GmbH violates sanctions legislation, considering the information gathered by journalists. As per investigative journalist Elisa Schwarze's report, the German Ministry of Economics and Climate Protection stated that businesses that are partially owned by sanctioned individuals are technically allowed to do business in Germany as long as someone at the top of the sanction list does not profit from it. The journalist also mentioned that communication with state officials is currently ongoing.
The sole responsibility for any content created with the support of the European Media and Information Fund (EMIF) rests with the author(s) and may not reflect the position of EMIF and the Fund's partners, the Calouste Gulbenkian Foundation and the European University Institute.